Senior bankers arrested in India 'scam' probe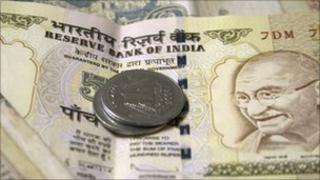 Police in the Indian city of Mumbai say that they have arrested eight people, including senior executives of top state banks, over a suspected scam.
They say that the alleged fraud involved bribes paid to secure large corporate loans.
Senior figures from the Bank of India, the Central Bank of India and the Punjab National Bank were arrested.
The Bombay stock exchange recorded significant losses after the arrests were made public.
The arrests are the latest in a series of corruption scandals to hit the country, including alleged financial irregularities at the Commonwealth Games, an alleged scam involving homes for war widows in the state of Maharashtra and the resignation of a government minister in a row over the issue of multi-billion dollar mobile phone contracts.
At a news conference in Mumbai, police said that raids had taken place across the country and officials were arrested in Delhi and Mumbai.
There was no immediate response from any of the arrested officials or the institutions for which they work.
Among those arrested was the chairman of Mumbai-based financial services group, Money Matters, and two other executives from the firm, the Central Bureau of Investigation (CBI) said.
Correspondents say that the company specialises in advising corporate clients on how to borrow money.
The CBI said that Money Matters was "allegedly bribing senior officials of public sector banks and financial institutions for facilitating large scale corporate loans".
CBI official P Kandaswamy told the BBC that the "financial proportions of the scam were not known and investigations were going on".
All eight officials appeared in court in Mumbai on Wednesday and were remanded in custody for five days.