'Corruption' blights the lives of flood-hit Pakistanis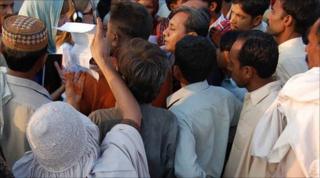 Millions of people in Pakistan are facing winter without proper shelter because their homes were destroyed by the recent devastating floods. Some accuse officials of mismanaging the crisis - a claim the government denies. Jill McGivering reports from southern Punjab, one of the worst affected regions.
I came across the blanket distribution late in the afternoon near the road, on the outskirts of Kot Addu. As soon I got out of the car, people surrounded me.
It's all unfair, they shouted. Officials are not giving blankets to people who need them. They are giving them to friends and supporters.
A woman in a white burka pushed forwards.
"I'm very poor," she said. "My house has been destroyed. I don't even have a tent. It's cold at night, winter is coming and the children are starting to become ill."
She had come here for help, she said, but no-one would give her anything.
'Raining corruption'
One man spoke English. He had come along to support his neighbour, he said.
"They've been standing here since nine in the morning," he told me. "Now it's five o'clock and they're still waiting."
"Look at her," he said. "She's pushed around by everyone and in the end she'll go home with nothing."
I headed for the brick building with the blankets, hoping to put these complaints to the officials inside.
The angry crowd moved with me. By the time I managed to enter the room where the blankets were stacked, the official had gone.
I was told that he had taken advantage of the chaos and slipped out of the back door.
I came away not knowing if the crowd's allegations were justified.
But as I travelled around the blasted landscape of southern Punjab, I was certainly struck by the mood of public frustration and repeated allegations of corruption that have been directed at the government.
It is not only about blankets.
The government is now rolling out a nationwide cash compensation scheme for flood victims. Families can apply for a special bank card and use it to withdraw compensation from cash points at local banks. But this too is proving controversial.
I visited a rich, landowning family in the area. About 40 men had come to beg for help. They said they were not getting the cash compensation they had been promised.
"Corruption, corruption, corruption," shouted one burly man. "It's raining corruption!"
Fury
He showed me mini-statements from the bank.
The first instalment of compensation had been credited to his account - but just days later, the whole sum had been withdrawn. Not by him, he insisted.
Other men shouted the same allegation, blaming government officials and the bank staff for defrauding them.
In Islamabad, I put the allegations to the Interior Minister, Rehman Malik.
It was not possible for government officials to defraud the cash compensation scheme, he said.
Thirty-eight thousand cases of fraud had already been registered, he said, but they all involved members of the public.
"This is dishonesty on the part of the people - their own friends, family members and people from their own area," he said.
"People here are very simple," he said. "They only understand the language when they get the cash. If the cash is delayed, then they'll blame the government."
I told him about the chaos at the blanket distribution and the old lady who repeatedly came away with nothing. Mr Malik said this too was the result of public fraud, not official corruption.
He related a personal experience in the field. "I spotted women coming, taking goods, like blankets, going and stuffing them somewhere and then coming back for more," he said.
"Generally some people may not get them. But other people get them five or six times and then sell them."
Winter is approaching and there is no doubt that people who have lost their homes and crops are full of fury, much of it directed at officials.
Fair or not, that's doing little to help the government's credibility here.
To listen to Jill McGivering's documentary, click here. You can also download this programme as a podcast.