Indian forces kill Maoist rebels in Chhattisgarh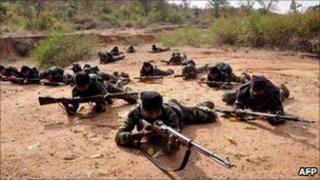 Security forces in India have killed at least nine suspected Maoist insurgents in the central state of Chhattisgarh.
Police said they acted on intelligence and encircled and ambushed a group of the rebels in Dantewada district.
The area is a rebel stronghold as its dense forests offer protection from government troops.
The rebels are believed to be active in more than two-thirds of the country. They say they are fighting for the rights of the rural poor.
"At least nine Maoists were killed at Jagargunda village in a fierce gun battle with security forces," news agency AFP quoted police officer SRP Kalluri as saying.
He said there were no civilian casualties.
The Maoists have carried out a spate of deadly attacks in recent months. In April, 76 policemen were killed in Dantewada.
In May, 145 people died when a train crashed in West Bengal after Maoists, also known as Naxalites, allegedly sabotaged the rails.
Prime Minister Manmohan Singh has described their insurgency as India's biggest internal security challenge.
A government offensive against the rebels - widely referred to as Operation Green Hunt - began last October.
It involves 50,000 troops and is taking place across five states - West Bengal, Jharkhand, Bihar, Orissa and Chhattisgarh.