Afghan town's despair as Nato eyes endgame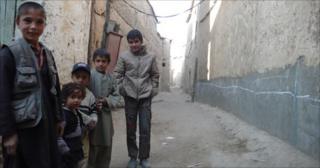 Just outside Kabul, the BBC's Quentin Sommerville finds Afghans living under the shadow of Taliban guns, and looking far from ready to manage without foreign help.
It is only an hour's drive from Kabul, but the town of Charikar feels like another world.
People can easily go about their everyday business. The bazaar is busy and there's plenty to buy.
Here they can walk the streets without too much trouble.
Nato-trained Afghan police are on patrol, and the hope is that in this and a few other provinces, they'll soon be able to stand alone.
But in the mountains outside the town, it's another matter.
A 10-minute drive from the bazaar and it soon becomes too dangerous to go any further.
'Not ready'
On the other side of the hillside lies the Ghorband Valley, and there the insurgents are in control.
Despite a police escort - they are armed to the teeth - this is the end of the road.
"From the security point of view this location is problematic but there is more danger further down," said Haji Rohuall, a member of the provincial council.
He's sceptical about the handover of security from Nato-led troops to Afghan forces.
"The police don't have enough resources," he said. "Transferring power to Afghans in six years will be difficult, never mind six months, because our forces are not ready.
"They haven't even been equipped with better guns. They are not ready to take over the security of the area. It will be something new for them and the situation here will deteriorate."
But security is not the only problem. There are other reasons why people here say the province isn't ready to be handed over to Afghan control.
In one part of Parwan, there are 53,000 people and only 44 police - everyday crime is on the rise.
Opium all day
In the back streets of Charikar, it is plain to see that unemployment is a huge issue.
In the narrow lanes, there are plenty of men standing around outside mud houses with nothing to do.
Unemployment is running at 70% in the province and there are more than 15,000 drug addicts.
In a local shop Mohammed Akbar, who hasn't worked in two years, and Sufi Yousaf, who's been unemployed for even longer, explain their situations.
They are both addicted to opium.
"Why would we have got into this? Because of unemployment and suffering. There were no drugs during the mujahideen," said Mr Akbar.
"From the day Karzai took over, there are drugs in Afghanistan. If there was a factory then things would be different.
"We aren't asking for charity - we just want enough to feed our wives and sons. But there is nothing to do. So, I sit here and smoke opium."
'We were optimistic'
Sufi Yousaf used to fight against the Taliban in the nearby hills - he once commanded 700 men. Now he smokes all day.
"We were optimistic when America arrived here - when we fought during the resistance," he says.
"We would tell our leaders: bring dogs but save us from the Taliban.
"America came and helped us, along with many other countries. We thought we would get lucky, prosperous and find work.
"They say they gave millions of dollars. But our poor people have not seen a penny of it."
The mountains of Parwan province are marked every few inches with painted white ticks showing another area of ground that has been cleared of mines.
It is safer here than in many parts of the country, but there is frustration and despair among the people that so little progress has been made in Parwan.
And there is a feeling that despite the hopes of Nato, the province isn't ready to stand alone.
The valleys around here were the front line in the battles against the Taliban.
Nine years on the threat remains just a hillside away, and still the people want foreign help in keeping it at bay.