Desperate wait of condemned Sri Lanka maid's family
By Charles Haviland
BBC News, Muttur, eastern Sri Lanka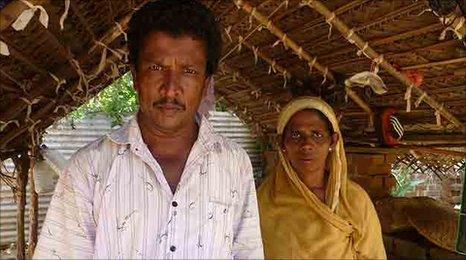 The parents of a young Sri Lankan woman sentenced to death in Saudi Arabia have appealed to King Abdullah to pardon her.
The Saudi Supreme Court recently confirmed the sentence originally passed on Rizana Nafeek three years ago, when she was convicted of murdering a four-month-old baby she was caring for in 2005.
She could be executed at any time, but she denies murder. It appears she was under-age when the alleged crime was committed.
Her mother, Rafeena, tells us at the family's tiny village home, where they keep one cow, that Rizana Nafeek went to Saudi Arabia to earn money to educate her three younger siblings.
In 2005, war was returning to this part of Sri Lanka between the military and Tamil Tiger rebels. Rizana's father, Sulthan, could no longer go to the jungle to collect wood, which had been his job.
In Saudi Arabia, their daughter got domestic employment but was also given childcare duties, something her parents say she was not expecting.
Weeks after her arrival, tragedy struck. The baby in her care, Naif al-Quthaibi, died. A Saudi court convicted her of murder and sentenced her to death.
She says that Naif choked during a feeding session and she was unable to save him.
Rizana Nafeek's conviction was based on a confession which she later retracted, saying it was made under duress.
Human rights groups, including Amnesty International, say she had no lawyer before or during her trial.
There is also strong evidence that she was a minor when the alleged crime was committed.
The BBC visited her old school, the Imam Shafi Vidyalaya, and saw a register which says she was born in 1988. That matches her birth certificate.
Her passport says she was born in 1982, but her family and neighbours say this was falsified by an unscrupulous Sri Lankan job agent.
If the 1988 date is correct, she was only 17 and therefore a juvenile when the alleged crime took place.
In that case, if it executed her, Saudi Arabia would breach the UN Convention on the Rights of the Child, which it has ratified.
"As a Muslim, I know this case is a matter of Islamic law," says Mohamed Jihad, a teacher at the school.
"This law is followed by tens of millions of people and I do not criticise it. But I'm confused about some aspects of the investigation.
"There were serious translation problems and that's one reason Rizana confessed to the crime."
Rafeena Nafeek is appealing for clemency for her daughter. That can be granted either by the Saudi King, or by the baby's family.
"We will thank the family [of Naif al-Quthaibi] if they allow our daughter's release," she says.
"We will pray for them. If they pardon our daughter we will pray for all their children and ask forgiveness from Allah."
Her husband, Sulthan Nafeek, says that since the death sentence was confirmed in late October he is in no mental condition to resume his work.
"Please release my girl," he asks.
Their 17-year-old son has given up school to find odd jobs to sustain the family.
They say it is as if they are dying, waiting for her to go free.
A convoy of ox carts clatters nearby.
It is a sign of the poverty prevailing here - this is a place which young girls like Rizana Nafeek will continue to leave, not knowing what dangers may face them overseas.
The family's case, like that of many other Sri Lankan domestic workers abroad, has been taken up by a member of parliament, Ranjan Ramanayake.
He makes a similar plea on the family's behalf. He also says the government should prosecute job agencies which make huge profits from sending people abroad, often on false pretences.
Her own family can only assert her innocence and plead for mercy.
Related Internet Links
The BBC is not responsible for the content of external sites.