Pakistan to raise $700m in taxes for flood victims
By M Ilyas Khan
BBC News, Islamabad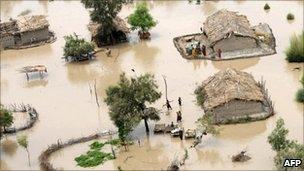 Pakistan has announced mid-year measures to raise more than $700m (£435m) to support people affected by the monsoon floods over the summer.
The move comes amid growing pressure from western donors that Pakistan should first tax its own rich before it seeks international help.
But the new measures are likely to hit those already paying taxes the hardest.
Critics say that the more influential rich classes are likely to continue avoiding their tax liabilities.
Many believe that raising taxes is the last recourse of a cash-strapped government - and that ordinary people rather than the rich will be the first to suffer.
The federal cabinet approved the new measures in a meeting on Wednesday.
Briefing the media after the meeting, Finance Minister Abdul Hafeez Shaikh said the measures were expected to yield about $765m (£475m) in additional taxes, over and above the tax collection targets for the fiscal year 2010-11.
About $470m will come from income tax payers alone, who are now required to pay an additional 10% on their income for six months between January and June 2011, Mr Shaikh said.
Out of a population of about 170 million, less than 2% of Pakistanis pay income tax.
A bulk of them belong to the salaried class whose tax is deducted at the time of the payment of their salary.
Most of the rest of the country's income tax payers either underestimate their income in official documents, or evade paying any tax at all.
Successive governments have struggled with tax collection issues because of endemic corruption.
The decision to further tax the same tiny segment of the society which already pays taxes has come after clear indications from the West that no international help would be forthcoming for Pakistan's flood-affected people unless rich Pakistanis are also made to dig into their pockets.
"It's absolutely unacceptable for those with means in Pakistan not to be doing their fair share to help their own people while taxpayers in Europe, the United States and other contributing countries are still chipping in," US Secretary of State Hillary Clinton said last month.
A study of flood damage conducted by the World Bank and the Asian Development Bank have put total losses at about $9.7bn (£6bn).
Related Internet Links
The BBC is not responsible for the content of external sites.