Talks with Taliban 'are being exaggerated'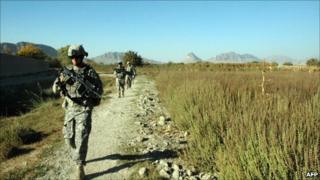 Guest columnist Ahmed Rashid says that while reports of possible talks with the Taliban have been exaggerated, there are kernels of truth within them - and important political shifts have raised hopes a peace process with the Taliban could be beginning.
For two years now there have been "talks about talks" between Afghan President Hamid Karzai and Taliban representatives.
Although there is still no movement towards substantial negotiations between the two sides, the US has moved a step closer towards holding direct talks with the Taliban.
Direct US involvement is a key demand of both the Taliban and President Karzai.
Safe passage
Mid-October's much-hyped statement by US and Nato forces in Kabul that they had facilitated the arrival of a key Taliban figure from the Quetta Shura for talks with Mr Karzai was not entirely accurate. The individual never turned up.
However, there were meetings in Kabul at the beginning of October between President Karzai and former Taliban deputy prime minister, Maulvi Abdul Kabir, who today heads the lesser Taliban Shura in the Pakistani city of Peshawar.
Mr Kabir cannot claim to be speaking for the all-important Quetta Shura - the mainstream Taliban that ruled Afghanistan in the 1990s and are led by Taliban leader Mullah Mohammed Omar - but Nato did facilitate his safe travel to Kabul.
There is no doubt now that the US and Nato are willing to willing to offer safe passage and facilitate talks between the Afghan president and the Taliban in Kabul.
This has not happened since secret meetings between the two sides - usually held outside the country - began in the summer of 2008.
The mantra of three successive US commanders in the two years of Barack Obama's administration has been that negotiations had to be deferred until the Taliban were militarily weakened and the US could speak from a position of strength.
Until recently the US and Nato forces commander, General David Petraeus, has maintained that mantra.
However there could be changes in that doctrine on the way, even though US-Nato forces have aggressively moved ahead in their campaigns to clear the Taliban from their southern bases in Helmand and Kandahar.
US special forces say they have killed some 300 mid-level Taliban commanders in the past three months.
Fighting the Taliban while supporting talks between them and Mr Karzai could become the new and more realistic mantra of US commanders.
The provision of safe passage by Nato is an important confidence-building measure between the Taliban and Kabul that could be rapidly expanded upon.
Building peace
Future such measures could include:
Creating a haven inside or outside Afghanistan where talks can continue
Declaring ceasefires in selected districts to guarantee aid deliveries
Making an agreement with the Taliban to stop targeting aid workers and Afghan officials in exchange for an end to attacks by US special forces on Taliban commanders
Senior US diplomat Richard Holbrooke has said frequently that peace in Afghanistan will not come through a major conference such as the Dayton Agreement that ended the war in the former Yugoslavia.
Instead peace will have to be built layer upon layer, district by district and one step at a time as the highly fragmented Taliban movement first negotiates confidence-building agreements with Nato forces which could lead to more high-profile negotiations with Kabul.
Since 2008, Mr Karzai has held secret talks with all three of the main factions of the Taliban, but none has moved towards real negotiations.
These factions include Mullah Omar's Quetta Shura.
Mullah Omar's two allies are the rival networks of Gulbuddin Hekmatyar and Jalaluddin Haqqani.
All three groups have been based in Pakistan since 2001 and Pakistan's Inter-Services Intelligence (ISI) still exerts considerable influence and pressure on all of them.
In February the ISI arrested the Taliban number two, Mullah Abdul Ghani Brader, precisely because he was involved in talking to President Karzai's brother in Kandahar without the ISI's permission.
Militant stance
Since then and the arrest of some 30 more Taliban figures in Pakistan, the fragmentation of the mainstream Taliban movement has increased.
This may be to Pakistan's short-term advantage, but it is a long-term disadvantage to the peace process.
Mr Hekmatyar has been in talks with Kabul since 2006 but he does not control territory or population, which makes him only minimally significant.
The US has been especially opposed to talks with Jalaluddin Haqqani because he is considered too close to al-Qaeda.
But he is the Pakistani military's favourite because of his militant stance against expanding Indian influence in Afghanistan.
Now extremely ill, 67-year-old Mr Haqqani has handed over command to his son Sirajuddin Haqqani, who exerts a major influence in six provinces and has terrorised much of eastern Afghanistan - learning the skills of urban terrorism from al-Qaeda.
The talks effort by Kabul and Nato is mainly being directed at the Quetta Shura, which has the greatest amount of political legitimacy and authority inside the country - even though the US has said that Mullah Omar is beyond the pale.
In December Mr Obama will undertake another policy review - and the main thing to watch is whether the US will continue playing a supporting role in Mr Karzai's negotiations with the Taliban or whether the Americans will move closer to actually talking directly to the Taliban.
For many Afghans, only the direct involvement of the US would give them hope that their priorities - such as a humane constitution, education and women's rights - would not be bargained away by the Afghan government in a bid to retain power.
Ahmed Rashid's book, Taliban, has just been updated and reissued on the 10th anniversary of its publication. His latest book is Descent into Chaos - The US and the Disaster in Pakistan, Afghanistan and Central Asia.