Pakistan's frenzy over cricketer Haider's asylum bid
By M Ilyas Khan
BBC News, Islamabad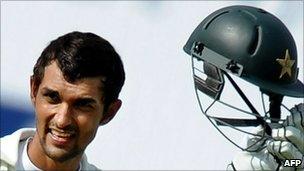 Did he do it to win asylum for himself and his family in the United Kingdom, or was he really under threat?
Moreover, if there was a threat, was it serious enough to make him throw away an entire career, break all team rules and bolt?
Pakistani cricketer Zulqarnain Haider has left a trail of these and other questions in the wake of his flight from Dubai to London in search of "protection".
And his statements have done little to clear up the confusion.
In Pakistan, the story claimed the bulk of the air time on news channels on Tuesday, the day that cricket managers discovered he was missing from his hotel room in Dubai.
Nearly all newspapers on Wednesday morning carried editorial comment on the issue.
Meanwhile, Pakistani cricket fans who once knew cricket records and scores like the back of their hands are not sure about the game any more.
Soon after it became clear that Haider had boarded a flight to London, questions were raised about his motives.
"He wasn't a match-winning player, so why would the gamblers threaten him? He is doing it to apply for asylum in the UK," former pace bowler Sarfaraz Nawaz told the media.
Some cricket watchers speculated off-the-record that Haider had replaced a member of the team who had been involved in match-fixing scams and was not happy with his inclusion.
"It is possible that Mr Haider preferred asylum in the UK over a futile effort to survive in the Pakistani team," one cricket expert said.
He pointed to the incident this summer when Haider was prematurely sent home after playing a fine innings against England because of a finger injury which the wicketkeeper himself had insisted was not serious.
Nearly all former cricketers and team managers have criticised him for leaving the camp without informing either his own management or the International Cricket Council (ICC) about the threats, as he was required to do under the governing body's rules.
They said it was "childish" behaviour, even if he had received threats.
Some suggested that if his account of the threats delivered to him was true, he probably became unduly paranoid about himself and his family and made an irrational decision.
A former cricket board chief, Tauqeer Zia, and a former off-spinner, Iqbal Qasim, both suggested in separate television interviews that Mr Haider should be examined for stress-related illness.
Sports Minister Ijaz Jakhrani was more blunt in his comments:
"Does it befit his person to run away like this, without informing the board or the anti-corruption unit [of the ICC]? It doesn't. If he was such a coward, why was he playing cricket?"
Haider is yet to lay bare the identity of the man or men who menaced him, and the nature of the threat itself.
As such, it is difficult to determine how rational or otherwise his behaviour has been.
In any case, many in Pakistan believe the episode is yet more evidence of the rot that has set into the national game, with the onus lying squarely on the country's cricket board.
In an editorial on Wednesday, Dawn newspaper said the incident offers another opportunity for Pakistan to take the lid off the "gambling brew".
"The Pakistan Cricket Board under chairman Ijaz Butt has hardly appeared inclined [to address the problem] and has no credibility. It must give way to a set-up which is capable of reform."
Questions are also being raised as to why, barring a couple of exceptions, only Pakistani cricketers get involved in match fixing.
In its editorial comment on Wednesday, the Daily Times newspaper points to a possible explanation:
"The elephant in the room is the link between people wielding power and the bookmakers. It is alleged that a top bookmaker and mafia don have connections with a powerful intelligence agency in Pakistan."
Related Internet Links
The BBC is not responsible for the content of external sites.