Indian car firm Tata offers Nano safety upgrades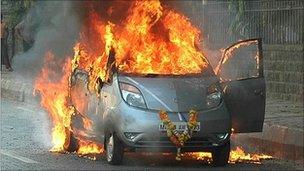 Leading Indian vehicle manufacturer Tata Motors has offered free safety upgrades for the world's cheapest car, the Nano, which went on sale last year.
The move comes after owners of the hatchback reported a series of fires.
In a statement the company insisted that it was not recalling the cars and was merely providing customers with additional safety features.
The statement said that the Nano was a safe car with a robust design and state-of-the-art components.
The Nano was introduced to India in April 2009 amid huge fanfare. There are now about 70,000 of them on the country's roads.
The basic Nano costs about 100,000 rupees ($2,025).
Correspondents say that while it is clear the car is not being recalled, the announcement by Tata is nevertheless embarrassing for the company and potentially hugely expensive.
About half a dozen fires involving the four-door car have been reported since April last year. There were no injuries.
The company said an investigation by a team of internal and international experts had concluded that the reasons for the fires were "specific to the cars which had such incidents", rather than being a general fault.
However the Tata statement says instances of "additional foreign electrical equipment having been installed or foreign material left on the exhaust system" had been discovered.
It said that it was necessary "to provide additional protection in the exhaust system and the electrical system".
Tata Motors chief executive Carl-Peter Forster said earlier this week the carmaker planned to install a cover on the catalytic converter and fuses for electrical components to avoid short circuits in new models.
The Nano is pitched towards India's aspiring middle classes, many of whom use motorbikes but want to upgrade.
The Tata statement said that "customers can rest assured that there are no generic defects in the Tata Nano".
It said that customer satisfaction with the vehicle was high, with about 85% of owners either satisfied or very satisfied with the car, which had a record of reliability and safety.
The company said that it was up to customers to decide whether to take advantage of the safety upgrade.
There are three versions of the Nano - deluxe, mid-range and economy. It is not clear which versions were hit by the reported fires.
Currently, there are about nine cars per 1,000 people in India.
Related Internet Links
The BBC is not responsible for the content of external sites.