Bangladesh 'to sterilise' strays
By Ethirajan Anbarasan
BBC News, Dhaka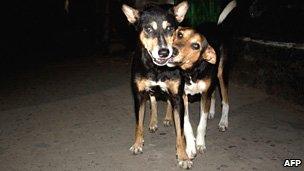 Bangladeshi officials say they plan to sterilise male stray dogs across the country if a trial research project proves successful.
The pilot programme to sterilise stray dogs was launched as part of a major anti-rabies drive earlier this year.
Figures show that at least 2,000 people die of rabies every year in Bangladesh.
The decision to sterilise the dogs came after animal rights groups protested against culling them by beating them to death or giving them lethal injections.
Some estimates suggest that nearly 200,000 people report being bitten by stray dogs every year in Bangladesh. The human death toll due to rabies is considered to be among the highest per capita rates in the world.
The pilot programme is being carried out in a small island in the Meghna river in the district of Narsingdi. All the male dogs which have been sterilised have been given black collars for identification.
"Our latest reviews show that we are making progress in our programme to sterilise male stray dogs," Dr Moazzem Hossain, a senior official at the health ministry, told the BBC.
"We are hoping to replicate it across the country if we get desired results and enough support."
There is no official figure on the number of stray dogs in the country but officials estimate there could be more than 2.5 million of them.
"Culling is not a solution because our colleagues tell us that even if they kill 30 to 40 stray dogs in a month the population in that area multiplies by hundreds within months," Mr Hossain said.
Every year more than 20,000 dogs are culled in and around the capital, Dhaka, alone.
Animal rights groups have been calling for more "humane" methods used to control the dog population.
"We welcome this sterilisation method instead of brutally killings the dogs. But we hope that the programme gets enough funding so that it can be expanded across the country," Shahadat Hossain Salim from the Society for Ethical Treatment of Animals in Bangladesh told the BBC.