Sri Lanka bishop accuses forces over missing priests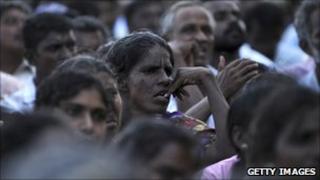 At least two Roman Catholic priests have gone missing in Sri Lanka in the past four years, the church says.
Kingsley Swampillai, the bishop of Trincomalee and Batticaloa, said one of the priests vanished after security forces took him in for questioning.
Bishop Swampillai and his colleagues were testifying before a commission looking into the country's civil war.
It ended last year when troops defeated Tamil Tiger rebels, who had been fighting for a separate state.
The United Nations estimates the ethnic conflict killed up to 100,000 people. Many others disappeared.
The government says the commission will promote reconciliation and has rejected international calls for an external inquiry.
'Rights violated'
Bishop Swampillai, who heads the main diocese in eastern Sri Lanka, told the commission there were numerous missing and disappeared Sri Lankans whose fate had been unknown for many years now.
Most of the cases remained undocumented, he said.
They included priests - one, Rev Father Nihal Jim Brown, who he said had vanished in Jaffna in 2006; and another, Father Joseph Francis, who the bishop said was in his late 70s and had "got involved with" the Tamil Tiger militants while living in their heartland.
Bishop Swampillai said Father Francis was among those leaving the war zone in May 2009 and passing through the military checkpoint at Omanthai when people travelling with him saw him taken in for special questioning.
"And then he was no more - nobody saw him thereafter," the bishop said.
Six weeks ago the wife of a former Tamil Tiger official, testifying at the commission hearings in northern Sri Lanka, also mentioned that Father Francis had vanished.
The bishop was highly critical of the security forces.
"The rights have been violated with impunity by the security forces and by unidentifiable persons and groups especially in the north and east. The situation has worsened by the state sponsorship of paramilitary groups during the height of the war, out of the former militants."
'Dangerous trend'
The archbishop of Colombo, Malcolm Ranjith, who is soon to become a cardinal, said that attempts were being made to change the demographic make-up of northern and eastern Sri Lanka, which currently have an ethnic Tamil majority.
"This could be a dangerous trend if it is not arrested; unless people are allowed to move in and move out in a proper way without any colonisation as such, with or without government approval.
"Because what can happen is that there can be a kind of psychosis of fear about a cultural invasion of villages and areas of the country considered to be predominantly of one group or the other. This can cause friction and unnecessary clashes."
Others in the group of senior Catholic witnesses were similarly critical of the Sri Lankan government.
A member of the commission, Karu Hangawatte, repeatedly challenged their contention that the 27-year-old state of emergency should be lifted.
Earlier, the commission heard from Arjuna Aluwihare, a former member of the Human Rights Commission of Sri Lanka.
He said that violence and other ills in the country were fostered by aspects of its political culture.
Among things he strongly criticised were what he said was the failure to hold government people responsible for their misdemeanours, and the constant defection of politicians from one party to another, something he described as "diseased".