Sri Lanka's historic Jaffna library 'vandalised'
By Charles Haviland
BBC News, Colombo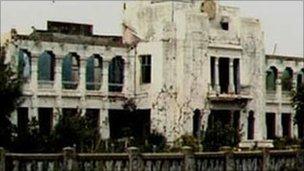 The historic Jaffna public library in Sri Lanka has been closed to tourists a week after a large group of visitors vandalised it, say reports.
The library has emotional significance for the island's Tamil minority as it serves the city usually regarded as their cultural capital.
The burning of the library by mobs 30 years ago helped trigger the Tamil Tiger insurgency.
It was reportedly vandalised by a large group of Sinhalese visitors.
Reports from Jaffna say the public library has been closed to foreign and Sri Lankan tourists since Saturday, after an ethnic Tamil government minister from the city apologised for acts of vandalism by tourists a week earlier.
Information does not flow freely from northern Sri Lanka, but sources in Jaffna say a large group of tourists from the ethnic majority Sinhalese community arrived in buses from the south and asked permission to enter the facility on 23 October.
Guards tried to turn them away as the library was hosting a medical seminar.
The tourists reacted by running amok, breaking some of the shelves and throwing books on the ground.
There were also reports that they vandalised plants by a statue of a prominent Tamil politician.
Reports said the security forces had difficulty calming the situation.
The Sri Lankan president's office said there was no "attack" on the library but did not deny reports of an "altercation" there.
The Jaffna public library has emotional significance for the Tamils of northern Sri Lanka. Organised Sinhalese mobs attacked and burnt it over two days in mid-1981, reportedly with the connivance of the security forces.
Recent governments have sponsored its careful restoration.
Senior members of the current government have denounced what happened and also apologised, although they have also said the then governing party - now the main opposition party - was to blame.
Very large numbers of Sinhalese tourists now visit Jaffna, which was once the headquarters of the Tamil Tigers.
Some local Tamils resent the overcrowding and what they see as a triumphalist attitude in some of the visitors. But Sinhalese people say they need not apologise for visiting all parts of the reunified island.
Related Internet Links
The BBC is not responsible for the content of external sites.