US drone attack kills five 'militants' in Pakistan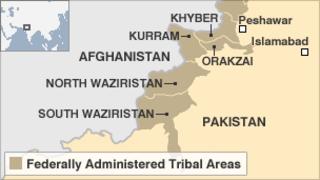 At least five militants have been killed in a US drone strike in north-western Pakistan, intelligence officials say.
They say missiles struck a house in the Hyder Khel area of North Waziristan early on Monday.
So far there has been no independent verification of the attack.
Separately at least four people were killed in the district of Swabi when suicide bombers tried to storm the local police headquarters.
Police say that the bomber blew himself up at the gate of the police station in the town, which is 70km (43 miles) north-west of Islamabad. At least six policemen were wounded.
Later, police say that another bomber was spotted near the headquarters and was pursued and killed. They say that two other people who took part in the attack remain unaccounted for.
Public criticism
The lawless North Waziristan tribal region is a haven for members of the Taliban and al-Qaeda and has been repeatedly targeted by US drones.
Pakistani news channels have reported that the brother of the former Pakistani Taliban leader, Baitullah Mehsud, was among the dead in Monday's drone strike.
Nearly 20 suspected militants were killed in drone attacks in North Waziristan last week.
About 70 drone strikes have killed more than 200 people in North and South Waziristan since the start of 2010, officials say.
Pakistan publicly criticises such attacks, saying they fuel support for militants. But observers say officials privately condone the strikes.
The US military and CIA do not routinely confirm that they have launched drone operations, but analysts say only US forces have deployed such aircraft in the region.
Intercepted
Meanwhile gunmen in north-west Pakistan have fired on two tankers carrying fuel to Nato troops in Afghanistan, wounding at least three people, police said.
The gunmen intercepted and opened fire on two oil tankers on a highway near Pabbi town in Nowshera district.
A local police officer said two drivers and an assistant were injured in the firing. Though oil leaked, the tankers did not catch fire.
Pakistani Taliban claim to have carried out earlier attacks on tanker convoys.
Monday's attack happened when eight militants in two cars intercepted the tankers and fired at them, police officer Hayat Khan told the AFP news agency.
Pakistan had closed the main border crossing to Afghanistan for 11 days last month in protest at a Nato helicopter attack inside Pakistan, which left two Pakistani soldiers dead.
The Pakistani Taliban carried out a series of similar attacks last month after the closure of the border crossing - 30 tankers carrying fuel to Nato troops were set on fire in one of the attacks.