US apologises for deadly Pakistan helicopter raid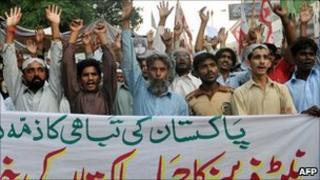 The US and Nato have apologised for a recent helicopter attack that killed at least two Pakistani soldiers near the Afghan border.
US envoy to Pakistan Anne Patterson said her country offered its deepest apology, while Nato's Gen David Petraeus vowed to work to stop similar incidents happening in the future.
Nato admitted its two helicopters had entered Pakistani airspace.
It said the crews believed the border guards were militants and opened fire.
The attack, on 30 September, infuriated public opinion in Pakistan and led to anti-Nato demonstrations.
The government closed a border crossing used by Nato to supply forces in Afghanistan a day after the attack, but gave no reason for the move.
The border closure has led to long queues of traffic, and militants have seized the opportunity to ramp up attacks on fuel tankers heading for Nato bases.
'Terrible accident'
Nato, which carries out sporadic attacks on targets in Pakistan from its bases in Afghanistan, had initially claimed that the helicopter raid was within the rules of engagement.
But Nato's Afghan-based International Security and Assistance Force (Isaf) completed its investigation into the killings on Wednesday, and published a statement of apology.
Gen Petraeus said the force offered its "deepest sympathy and condolences to the families of those killed and wounded, to the Pakistan military, and the people of Pakistan".
"We deeply regret this tragic loss of life and will continue to work with the Pakistan military and government to ensure this doesn't happen again," he said.
The Isaf report said the helicopter pilots had seen a border guard firing into the air, and had mistaken the soldiers for militants.
In a statement, Isaf commander Brig Gen Tim Zadalis said: "We believe the Pakistani border guard was simply firing warning shots after hearing the nearby engagement and hearing the helicopters flying nearby."
Ms Patterson described it as a "terrible accident" and said she was offering an apology on behalf of the American people.
"We extend our deepest apology to Pakistan and the families of the Frontier Scouts who were killed and injured," she said.