Pakistan's 'fanatical' Uzbek militants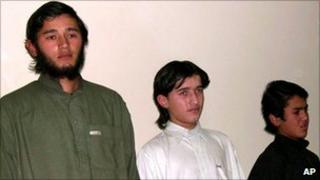 The deaths of at least eight al-Qaeda militants - some of whom were German nationals - in a September 2010 drone attack in the Pakistani region of North Waziristan has once again raised questions about the involvement of foreign militants in the area. They were apparently visiting tribal leader Sher Mullah, who is believed to have close links to Taliban and to foreign militants including the Islamic Movement of Uzbekistan (IMU). So who are the IMU and what are they doing in Pakistan?
Most Uzbek militants in South Waziristan belong to the al-Qaeda-linked IMU.
Renowned for their fanaticism, Uzbek militants initially fled their home country in the early 1990s after a government crackdown on people who advocated the introduction of Sharia law in secular Uzbekistan.
Nobody knows exactly how many there are in Pakistan - estimates vary wildly from 500 to 5,000.
Not all Uzbeks there are active militants - some are merely supporters of the Taliban while others are little more than "hired guns".
Tahir Yuldashev, leader of the IMU, was based here along with many of his comrades for a number of years.
In September 2009 the army claimed to have killed Mr Yuldashev, but this has never been confirmed.
European militants are known to frequent the area around the town of Mir Ali in North Waziristan.
Several foreign nationals, including those of Dutch, German and French origin, have been arrested by security forces based in the Bannu area while entering or leaving the region.
British Born Rashid Rauf, of the failed transatlantic bombing plot fame, was said to have been killed in this area in November 2008.
Taliban loyalty
When founded in August 1998 in the north of Afghanistan, the IMU's main aim was to overthrow the government of President Islam Karimov and establish an Islamic state in Uzbekistan.
In 1999 the IMU set up several military camps in northern Afghanistan from where it launched incursions into southern Kyrgyzstan and Uzbekistan in 1999 and 2000.
When the US-led alliance invaded Afghanistan in 2001, the IMU announced its loyalty to the Taliban.
The IMU is believed to have suffered heavy losses while fighting alongside the Taliban against US-led forces in 2001. But it successfully reorganised itself in the tribal areas of North and South Waziristan over the following years.
A former IMU member told the BBC Uzbek service that there were more than 100 families in the tribal areas by the end of 2001.
Most of them were children and widowed women. Among them there were several hundred IMU members.
The overall picture is further confused because some Pakistani officials erroneously assume that Islamic fighters from other countries - such as Chechnya - are from Uzbekistan.
Permanent fixture
Although Central Asian governments continue to regard the organisation as the main threat to the region's stability, its capability as an operational force outside Pakistan and Afghanistan is questioned by analysts.
The Uzbek contingent is thought to have mixed with the local population to some extent, becoming a permanent fixture of the militant scene in Pakistan's north-western border areas.
Experts say that the Uzbeks were first targeted by Pakistani security forces in March 2007 when militants started attacking and killing Pakistani soldiers and paramilitary troops.
After that, Tahir Yuldashev's men were accused of numerous suicide attacks and of killing hundreds of tribal elders in Pakistan over the years.
His militants carried out attacks on Pakistani forces in the tribal belt and are believed to have taken part in the Red Mosque siege in 2007 in which dozens of people were killed.
The military say that Uzbek militants are a formidable enemy.
Pakistani security forces believe that some of the major bomb attacks in Islamabad are the work of Central Asian militants.