Former Tamil Tiger rebels taste freedom after 16 months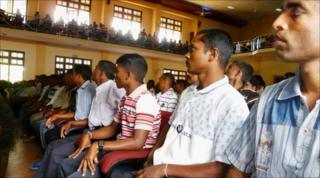 In a rare interview, a former member of Sri Lanka's defeated Tamil Tiger (LTTE) rebels has been speaking to the BBC about his feelings on being released from 16 months of government detention and rehabilitation programmes.
Dr Kumarasamy Muralitharan was one of 400 former LTTE members, or suspected ex-members, who were the latest batch to be freed in northern Sri Lanka after being inmates in special military-run camps.
He was a registered member and "full supporter" of the separatist group, having trained in their medical colleges and served in their medical wing for 20 years.
He said he had never fought and, as a medic, abhorred violence.
But, he said, the LTTE was in search of a homeland for Sri Lankan Tamils.
"Now I don't think [about it] because there are many many problems associated with this homeland," he said.
"Actually, what's the definition of the homeland? I don't know. We want the rights. And with the rights we can live with peace here."
Dr Kumarasamy spoke as more than 1,000 ex-LTTE fighters or members and their parents, spouses and children gathered in a hall in Vavuniya for the release ceremony.
The government says that about 11,000 such people surrendered and are being gradually released, with a "hard core" of less than 1,000 expected to stand trial.
'Humane treatment'
Human rights campaigners condemn the mass detention as an illegal form of collective punishment, and are outraged that the International Committee of the Red Cross is denied access to them.
The government says it is treating the former insurgents humanely and that it will not "bow down to foreign powers" and change the system.
It was strange to think that this courteous father-of-four with excellent English had been part of the feared rebel group whose leaders were wiped out by the Sri Lankan military at the close of the war.
Dr Kumarasamy said he worked amid the trauma of the war zone in the final months, treating both "LTTE cadres and most of the public" and working alongside government medics in the Putumattalan hospital amid "the shelling and everything... also the gunshots".
Since handing himself in to the Sri Lankan military he had undergone what the government terms rehabilitation, with training in meditation, carpentry, farming, English and computer studies.
What about politics?
"They gave us an opportunity to realise what was going on in the outside world," he said, pointing out that he and his comrades had spent years in Vanni (northern mainland Sri Lanka) in relative isolation.
There was "nothing forceful" in the training, he added.
Stigma
Dr Kumarasamy admitted, though, that he was nervous about how people like him would be accepted in wider Sri Lankan society.
The government has not clarified whether it would recognise his and his fellows' medical qualifications.
We finished our chat and the ceremony began.
Three or four former LTTE members were symbolically "reunited" with their families on the stage, a prelude to hundreds more real reunions outside.
The most spontaneous applause came when Minister of Rehabilitation "Dew" Gunasekera announced that all the other people in "rehabilitation" would soon be released.
The government has previously said that some may be kept for up to two years in all.
Mr Gunasekera, a veteran leftist politician in the coalition government, told the BBC he could not be sure whether LTTE medical qualifications would be recognised.
But there was "no obstacle at all for them to come back to society" with the private sector waiting to give them jobs, he added.
Things are unlikely to be that smooth for everyone.
Inmates told the BBC in June that some had had no training at all since being confined.
The chief psychiatrist at the Vavuniya General Hospital, Dr S Sivathas, said there was a stigma attached to them "because all the time we are calling them militants and so on. So society is always looking at them differently".
He pointed out that many were forced to join the rebel group.
But the minister said the thousands released so far this year had done well.
'Friends'
Under a tree, the newly freed men and women and their parents queued to sign documents releasing them from army custody.
Between the young military officers and those queuing up there was laughter.
Kumarasamy Muralitharan, whom I had met earlier, was impatient to get to his family in Jaffna.
"I am very happy because I feel the freedom," he said. "Also I joined my family and children. I want to search for a job."
He said he did not want to talk about the LTTE. "But we are thinking about our people, Tamil people. This is our motto."
Moving into the Tamil language, he added:
"In a war, if one party wins and the other party loses, the winning party has the upper hand, so we can only expect what they give us.
"We believe they will give us something which will prevent things like conflict happening again.
"We have been defeated in this war."
Outside the compound, buses come to take people home, they rev their engines and sound their horns.
Their destination boards read: Jaffna; Mullaitivu; Kilinochchi; Batticaloa.
A man on crutches scrambled to board.
Did he fear for the future?
"I can't say anything now, I just came out so I need to see how things go," he said.
Former members of the LTTE on the bus waved. Two Sri Lankan Air Force officers waved back.
"They're our friends. They've already invited us to their villages," they said.