India remains calms after Ayodhya holy site verdict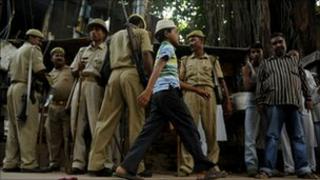 Calm prevailed in India a day after a court ordered splitting a disputed holy site in the northern town of Ayodhya between Hindus and Muslims.
Schools, shops and businesses reopened on Friday although thousands of troops remained in the streets on high alert.
In a majority verdict, judges gave control of the main disputed section, where a mosque was torn down in 1992, to Hindus.
Other parts of the site will be controlled by Muslims and a Hindu sect.
The destruction of the mosque by Hindu extremists led to widespread rioting in which some 2,000 people died.
It was some of the worst religious violence since the partition of India in 1947.
Hindus claim the site of the Babri Masjid is the birthplace of their deity, Ram, and want to build a temple there.
'Dignified'
"The law and order situation throughout the country has been extremely peaceful," Home Minister Palaniappan Chidambaram said on Friday.
"We are very pleased and satisfied that the people of India have been respectful and dignified," he added.
Prime Minister Manmohan Singh led the appeal for calm after the verdict was announced on Thursday afternoon in Lucknow, the capital of Uttar Pradesh state where the disputed site is located.
The court ruled that the site should be split, with the Muslim community getting control of a third, Hindus another third and the remainder going to a minority Hindu sect, Nirmohi Akhara, which was one of the early litigants in the case.
It said that the current status of the site should continue for the next three months to allow the land to be peacefully measured and divided.
The Hindus will keep the area where a small tent-shrine to Ram has been erected, lawyers said.
'Not happy'
Both Hindu and Muslim lawyers said they would appeal against the ruling in the 60-year-old case to the Supreme Court.
Leaders from both communities called on their supporters to maintain peace.
Senior leader of Hindu nationalist Bharatiya Janata Party LK Advani said the order was a "significant step towards building a grand temple".
Some Muslim leaders said they were dismay at the verdict.
Syed Ahmed Bukhari, the chief cleric of New Delhi's main Jama Masjid mosque, said he was "definitely not happy" with the ruling, news agency AFP reported.
He said Muslims would not give up their claims to rebuild the mosque at the site.
Asaduddin Owaisi, a Muslim MP, told AFP that "there is anger building up among the Muslim community over the verdict".
Authorities, however, are not taking any chances with security and nearly 200,000 security personnel continue to be deployed across northern India.
Correspondents say the Ayodhya ruling could not have come at a worse time for the authorities - they already have their hands full dealing with security preparations for the Delhi Commonwealth Games which begin on Sunday.