Afghan opium production 'halved'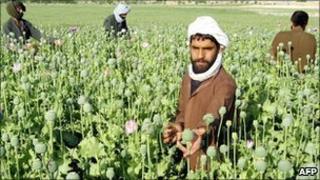 Opium production in Afghanistan has almost halved in the past year, a United Nations report says.
The sharp drop is largely due to a plant infection which has drastically reduced yields, says the UN Office on Drugs and Crime.
But it warns that production is unlikely to stay low, with rising prices tempting farmers to cultivate more opium poppies.
Afghanistan produces 90% of the world's opium, the main ingredient in heroin.
The UNODC's 2010 Afghan Opium Survey showed production in 2010 was at its lowest level since 2003, estimated at 3,600 tonnes - a 48% decrease from 6,900 tonnes in 2009.
"This is good news but there is no room for false optimism; the market may again become lucrative for poppy-crop growers so we have to monitor the situation closely," said Yury Fedotov, executive director of UNODC.
Organised crime
With opium prices rising again after years of steady decline, the UNODC has warned that production is unlikely to stay low.
It is concerned that a rise in opium prices combined with a fall in the price of wheat could push farmers back into poppy cultivation.
The report found that after a steady five-year decline from 2005, prices were rising again - with opium's price up 164% from $64 (£40) per kg in 2009 to $169 per kg this year.
The total area of the country used for poppy cultivation remains unchanged despite government eradication programmes, and Mr Fedotov has called for a comprehensive strategy to counter the opium threat.
This price increase meant that while less opium was produced, its value rose by 38% to $604m. This is six times the value of the country's wheat crop, and represents about 5.5% of Afghanistan's gross domestic product (GDP).
Most of the poppies are grown in the restive southern and western provinces, the report says, with production in Helmand alone accounting for more than half the country's total opium cultivation.
"These regions are dominated by insurgency and organised crime networks," said Mr Fedotov.
"This underscores the link between opium poppy cultivation and insecurity in Afghanistan."
But Helmand Governor Gulab Mangal praised a 7% drop in poppy cultivation in Helmand - the province's second year-on-year reduction.
"We are providing a safer and more stable environment for the local people ensuring a more secure and prosperous future free from the problem of drugs," said Mr Mangal.
Lindy Cameron, head of the UK-led Provincial Reconstruction Team (PRT) in Helmand, said this was a sign of progress being made between Afghan and international security forces.
"Reducing poppy cultivation denies the insurgency of an important source of funding, helping the Afghan government provide stability and security for the people of Helmand," said Ms Cameron.