Nato says aircraft did cross border into Pakistan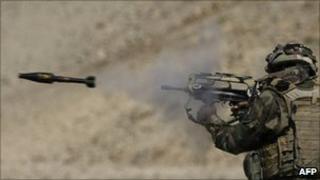 Nato in Afghanistan says its aircraft crossed into Pakistan and fired at suspected militants, in an attack Pakistan says killed three soldiers.
Nato said its aircraft killed "several armed individuals" as the crew believed they were being fired on.
Pakistan says the helicopter attacked a military checkpoint, and that it "strongly disapproves" of violation of its sovereignty.
It has blocked supply routes for US and Nato troops in Afghanistan.
It is not clear whether the closure is in retaliation for the attack.
However, if it becomes permanent, the blockade of one of two important routes could lead to a major escalation in tensions between Pakistan and the United States.
Interior Minister Rehman Malik said after the border attack on Thursday: "We will have to see whether we are allies or enemies."
A Nato spokesman said US Gen David Petraeus, commander of the foreign forces in Afghanistan, had contacted Pakistani government officials to explain what had happened during the attack, why it happened and to pass on his condolences.
The spokesman, Brig Gen Josef Blotz, said the border closure was having "no impact" on the supply of goods and transport logistics.
'Self-defence'
In a statement, Nato said that after striking what was believed to be an insurgent group "the aircraft received what the crews assessed as effective small-arms fire from individuals just across the border in Pakistan".
"Operating in self-defence, the... aircraft entered into Pakistani airspace killing several armed individuals," it said.
A Pakistani military spokesman told the Agence France-Presse news agency that troops fired at the helicopter "to indicate that the helicopters were crossing into our territory". Three soldiers were killed and three were injured.
President Ali Asif Zardari said "any violation of internationally agreed principles is counter-productive and unacceptable".
A queue of about 100 Nato vehicles was waiting to cross the border into Afghanistan earlier on Thursday.
However, local officials said the closure was carried out as a security measure to ensure Nato vehicles were not attacked by the Taliban in retaliation for the helicopter attack.
The route through the Khyber area supplies Kabul and is one of two key supply lines linking Pakistan to Afghanistan.
Another route - going though Quetta and Chaman to southern Afghanistan - remains open.
New pattern
Meanwhile at least five suspected militants have been killed in a suspected drone strike some 30km (18 miles) west of Miramshah, officials say.
There has been a major escalation in such strikes this year - with 64 in North Waziristan and six in South Waziristan.
The latest strikes have set a new pattern in the US-led "war on terror" in Pakistani tribal areas
Previously, drones have been carrying out strikes against al-Qaeda and Taliban targets in the area, but it seems that coalition forces have now decided to start using the "hot-pursuit" option as well, says the BBC's M Ilyas Khan in Islamabad.
Thursday's strikes come after months of pressure from the Western coalition urging Pakistan to launch a clean-up operation against militant groups in its North Waziristan tribal area.
Pakistan has argued that this would be difficult because troops are already spread too thinly to open a new front against the militants, especially when many soldiers have been helping out with recent flood relief operations.