New Pakistan Chairman of Joint Chiefs of Staff named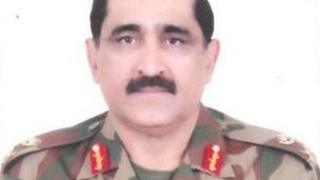 The Pakistani president has appointed a new Chairman of the Joint Chiefs of Staff (CJCS), technically the most senior position in the military-set up.
But the post has remained a largely ceremonial one, with the incumbent playing second fiddle to the head of Pakistan's powerful army.
The CJCS has, however, played an important role as a key mediator with the Western allies.
It also has a key role as the overseer of nuclear weapons command.
Gen Khalid Shamim Wynne, who was only recently appointed to the key position of Chief of General Staff, is seen as the natural choice to be promoted to CJCS.
He is the most senior general in the Pakistan army, second only to army commander Gen Ashfaq Pervez Kayani, who recently got a three-year extension.
The BBC's Syed Shoaib Hasan in Karachi says that originally the CJCS position was meant to rotate among the three services, but only one air force officer and two naval officers have held it since it was created by then Prime Minister Zulfiqar Ali Bhutto in 1976.
Gen Wynne is the sixth consecutive incumbent drawn from the army.
Our correspondent says it emphasises the control the army enjoys over Pakistan's powerful military structure.
Gen Wynne was seen, until the latest appointment, as the main contender to replace Gen Kayani as the commander of the army.