Inside India's first 'Unique Identity' village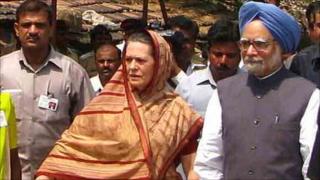 There has been a hive of activity over the last few days in the remote village of Tembhli in India's western state of Maharashtra.
That is because the village, in the tribal district of Nandurbar, is the first place in all of India to launch the country's unique identification (UID) programme.
Arman Qureshi, who was one of the first 10 recipients of UID cards, showed his off proudly to journalists and bemused villagers.
Using the latest biometric technology including an iris scan, over the next five years the cards will log details of India's population of more than one billion people on a central database.
Traditional and modern
The idea behind the multi-million dollar scheme is to provide better security, fairer distribution of food handouts and more equal employment opportunities.
In the village of Tembhli - 400km (248 miles) north of Mumbai - it was perhaps a classic example of traditional India meeting its modern counterpart.
The latest technological advances in personal identification were a little lost on the villagers, many of whom had never heard of UIDs and were a little perplexed to discover a media circus on their doorsteps.
But there was no doubting that people in this Congress party stronghold were excited about seeing Prime Minister Manmohan Singh and Congress President Sonia Gandhi.
The occasion was marked by newly constructed roads and an array of posters and banners displaying the UID symbol, which was also painted on numerous mud houses.
"Yes, yes, I shook hands with Prime Minister Manmohan Singh," said Arman Qureshi.
"We were told that with the card everything will be easier.
"I'm not literate so if I just show my fingerprints I will be able to access bank accounts anywhere in India."
However, his enthusiasm and knowledge is not necessarily shared by other residents of this village - where many in the population of about 1,500 people live below the poverty line.
Jijabai Thakre's house is next to the enclosure set up for the visit of the national leadership.
Nervous
As she sits outside her house watching the activity, she has some serious questions.
"We don't know how this works. Will we get jobs? Most of us are landless labourers and have to work away from home."
Most of the residents work in the neighbouring state of Gujarat during the four to six months of the farming season.
They have a common query - does this get us more food grain at lower costs?
Anil Thakre, a 12-year-old schoolboy who was also one of the first 10 to receive cards, appeared nervous as the media gathered around him to ask about his meeting with the prime minister and the benefits of the UID cards.
"It will help us," he confidently proclaimed, "and I can open an account."
Officials say that UID cards will reduce overlapping documentation when processing voters' cards, ration cards and below-poverty-line cards.
They say that people who do not have these cards will not be left out of welfare schemes once they have UID cards.
However, it does not guarantee jobs or loans, which the villagers are far more interested in.
And to make matters more complicated for them, it has emerged that some of the information on their UID cards may be inaccurate.
Kailash Manatre sums up the fears of many.
"We used to hold a BPL card which allowed us to buy food grain at a cheaper rate," he says.
"But my brother received a different card when he got married. So what information will appear on his UID card? And will we not get previous benefits? This must not lead to a scaling down of efforts to provide adequate affordable food."
As Sonia Gandhi and Prime Minister Manmohan Singh entered the village there were loud cheers as people craned their necks to get a glimpse of Soniaji.
Disappointed
In Tembhli there is love and support for the Gandhi family.
"We want to see her and we want to see Rahul Gandhi," is a common refrain.
Aravind Sonawane, a 20-year-old man, stood up and spoke to Ms Gandhi. He told her that the new roads built nearby the village had been constructed because of her.
"But soon they will forget about us. So we should be able to find work in our village. She heard me out and said 'OK'," he said.
Women who had gathered to see and speak to Sonia Gandhi were disappointed.
"We waited here for such a long time but the police did not allow us to speak to her. We wanted to tell her so many things - about our village and our life," villager Haseena Ansari said.
"We wanted to tell her that we were happy to see her but even that was not allowed. How will she know about our problems if we don't talk to her?"
After the dignitaries departed, villagers waited for their UID cards to be distributed.
More than 1,200 cards were handed out, making Tembhli the first UID-compliant village in India.
Soon after that, a dust storm tore through the village, removing many of the specially located posters.
With that the villagers had to return to their normal way of life - although this time they do so with a unique identity number in their hands.