Environmental concern over Sri Lanka nuclear plans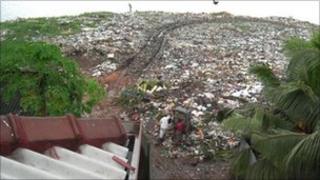 Environmentalists in Sri Lanka have expressed concern over government plans to build a nuclear power plant by 2025.
Energy Minister Champika Ranawaka announced that the government intends to build the plant to fulfil increasing demands for energy.
The minister has said the country needs to ensure that there will be no power cuts in the future.
But the campaigners say that the island is full of natural sources of energy.
Observers are also sceptical as to whether the country will be able to get the technological know-how to build such plant.
Mr Ranawaka has said that the government is already having discussions with Russia over buying nuclear fuel and sending nuclear waste back.
At present only a handful of countries including India, France, the US, Japan, Russia, the Ukraine and Germany have nuclear plants.
Small power projects
"We are considering nuclear power as an option in our long-term generation plan for 2025," he has been quoted by the local media as saying.
Other options, such as solar and wind energy, are not viable either because Sri Lankans consume too much energy at night time or because there is not enough wind.
But environmentalists warn of dire consequences if the plan goes ahead.
Centre for Environmental Justice spokesman Hemantha Withanage told the BBC that Sri Lanka is "too small" for a nuclear power plant.
"How a country which struggles to manage ordinary household refuse thinks that it will be able safely to dispose of nuclear waste is a very important question," he said.
There is no proper rubbish management in Sri Lanka - residents who live near garbage collection centres continuously complain of unbearably bad odours among other environmental issues.
Mr Withanage argues that Sri Lanka's renewable energy sources - such as solar and wind - can meet energy requirements if they are properly managed.
But energy minister Ranawaka - who begun his political career as an environmental campaigner against thermal power plants - insists that the nuclear option is the only viable alternative.
The BBC could not contact the minister despite repeated attempts.