US missile strike 'kills al-Qaeda chief' in Pakistan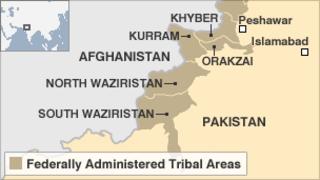 A senior al-Qaeda leader has been killed in a suspected US drone missile strike in Pakistan, officials say.
Pakistani security officials said Egyptian national Sheikh Fateh was killed on Saturday in North Waziristan.
The officials said Sheikh Fateh took over as al-Qaeda's chief of operations for Afghanistan and Pakistan in May after al-Qaeda's number three leader Mustafa Abu al-Yazid was killed.
The US has frequently targeted al-Qaeda and the Taliban in North Waziristan.
US officials have said they cannot confirm the death of Sheikh Fateh.
He was travelling with three others when their vehicle was hit by a missile, said the Pakistani officials.
Another suspected US missile attack, on Tuesday, struck a compound in South Waziristan near the Afghan border, killing four other militants, Pakistani intelligence officials said.
News agencies say there have been at least 20 suspected US drone missile attacks in September targeting militants in Pakistan's tribal areas bordering Afghanistan.
UN criticism
The raids have killed hundreds of people since January 2009 and fuelled anti-US sentiment in Pakistan.
Pakistan publicly objects to the strikes, but analysts believe such raids have the private backing of officials.
The US military routinely does not confirm drone operations, but analysts say it has the only force capable of deploying such aircraft in the region.
The Taliban and al-Qaeda have created bases in the rugged terrain, much of which lies outside government control, to launch attacks into Afghanistan.
The drone attacks have killed a number of Taliban and al-Qaeda commanders, including Mustafa Abu al-Yazid, who was killed in May.
He was considered al-Qaeda's number three leader, its head of operations for Afghanistan and Pakistan and the main conduit to Osama bin Laden.
In June, the UN's special rapporteur on extrajudicial killings, Philip Alston, had criticised targeted killings using weapons such as remote-controlled drones as posing a growing challenge to international law.
He also urged the US to reveal the number of civilians killed in such strikes.