Delhi Commonwealth Games village 'needs more time'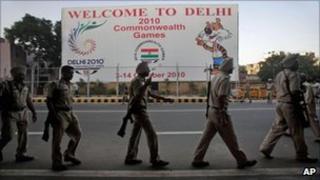 Delhi Chief Minister Sheila Dixit says it will take another two to three days to complete preparations for the Commonwealth Games.
Ms Dixit had earlier predicted that all the work would be finished by Wednesday.
As much as a fifth of the accommodation at the athletes' village is still not ready for Sunday's opening.
But the organisers say everything will be ready on time for the Games which have so far been marred by controversy.
Hundreds more athletes and officials arrived in Delhi during the course of Tuesday, as the clock ticks down to the start of the Commonwealth Games.
Massive security operation
The BBC's Chris Morris in Delhi says that many of the teams are now happy with the state of their accommodation. Others still have problems in buildings which are not yet up to scratch.
But the teams are now trying to focus on the competition, not the controversy, our correspondent says.
And the chairman of the organising committee, Suresh Kalmadi, who has been a target of much of the criticism, vowed that the Games would be a success.
"About 3,000 athletes have already entered the games village and many more are coming," he said.
"I want to tell you one thing: that people have been coming here and going back and they have gone back satisfied. That is why all the 71 countries are coming."
And as more and more of the athletes reach Delhi, the massive security operation surrounding the Games is becoming more visible.
More than 100,000 security personnel are on duty in the city, and army helicopters have been seen hovering over the Games village - providing the reassurance of aerial cover.
Every venue is heavily guarded, and the Delhi police say they have a fool-proof system in place.
The build-up to the Games has been marred by construction delays, corruption scandals, a dengue fever outbreak and the collapse of a footbridge near the main stadium.
A suspected militant attack on two foreign tourists has also highlighted fears about security.
The cost of hosting the largest sporting event in India's history has soared.
It has become the most expensive Commonwealth Games so far, with estimates ranging up to more than $10bn (£6.3bn).
Delhi has had seven years to prepare, though very little work was done until 2008. Ticket sales have so far been low.