Sri Lanka MP interrogated over 'dictator' posters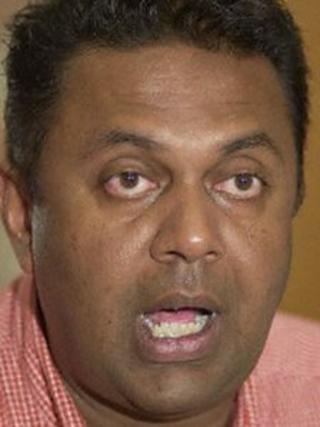 The main opposition Sri Lankan United National Party (UNP) has accused the authorities of undermining democracy by intimidating parliamentarians.
It says that Mangala Samaraweera, the first foreign minister under Mahinda Rajapaksa's presidency, has been unfairly questioned for hours by the police.
Mr Samaraweera has admitted responsibility for printing a poster depicting the president as a dictator.
The BBC could not contact police about the matter despite repeated attempts.
The UNP protested strongly against the recently passed 18th amendment to the constitution which removed the two-term limit for a for a sitting president.
They argued that the amendment paved the way for the president to become a "democratic dictator".
UNP deputy leader Karu Jayasuriya told the BBC that the "political harassment" of Mr Samaraweera is a serious threat to freedom of expression in Sri Lanka.
"Many similar cartoons have been published in newspapers before. Nobody was arrested or questioned for publishing those cartoons," Mr Jayasuriya said.
It is an indication of the future challenges, he said, facing those do not go along with the government's point of view.
The party has printed thousands of posters, depicting President Rajapaksa as a dictator, to use in the anti-amendment protests.
Police initially arrested the wife of the printer, followed by the printer.
Mr Samaraweera became a strong critic of the government after he was sacked by the president in February 2006.
He was recently appointed as the media spokesman of the main opposition.