Bangladesh 'hands rebels over to India'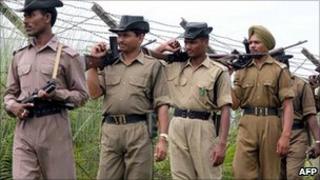 Bangladesh handed over 16 Indian separatists along with their family members to Indian authorities over the weekend, officials said.
The rebels, of the United Liberation Front of Assam (Ulfa), were in hiding in Bangladesh.
Meanwhile, the Bangladeshi authorities have called on India to exercise more restraint along their common border.
A human rights group says that almost fifty people were killed by the Indian border forces from January to August.
The separatist rebels were arrested by Bangladeshi security forces from the country's north-eastern region bordering India.
Top rebels arrested
The Ulfa rebels, the main rebel group in north-eastern Assam state, have fought for a separate Assamese homeland since 1979.
Indian officials said a group of 27, including the rebels and their family members, were handed to the country's Border Security Force by their Bangladesh counterparts at the border outpost of Dawki in India's Meghalaya state.
The arrested rebels include some top leaders like Anjan Borthakur, who was in charge of an important Ulfa base in Bangladesh, and Anu Borgohain, who led the group's publicity wing.
Ulfa chief Paresh Barua said in a statement e-mailed to the media that "some of our activists have been compromised in a neighbouring country and they are now in enemy hands."
He said some of them had indeed given themselves up to the Bangladesh security forces with their families.
Plea over restraint
Ever since Sheikh Hasina's government assumed power in Bangladesh in 2009, the country's security forces have cracked down on Indian separatists operating out of their bases in Bangladesh, says the BBC's Subir Bhaumik, in Calcutta.
More than 50 top leaders and activists of different separatist groups have been handed over to India since then.
Many more have fled to India to evade capture and have been picked up by Indian border guards and the police.
The plea over restraint in the common border was made in an annual meeting between senior representatives from the security forces.
Human rights groups say that many among those killed in recent months were farmers in the border area where Indian officials routinely enforce a night curfew.