Sri Lanka co-accused in Fonseka 'conspiracy' case freed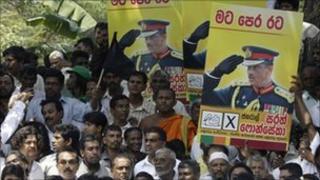 A court in Sri Lanka has released four suspects arrested on charges of conspiring to overthrow the government.
They are among scores of supporters of former army chief Sarath Fonseka, who was arrested after his unsuccessful bid for the presidency.
A senior serving military officer, two retired major generals and a defence columnist are among those freed.
The senior army officer released on Friday is also accused of being involved in a high-profile murder case.
Brig Duminda Keppetiwalana is the most senior serving military officer to be arrested since Sarath Fonseka in January.
Journalist's murder
The court was informed that the attorney general had decided not to file charges against the officers and the journalist.
But the attorney general told the court earlier that Brig Keppetiwalana had been involved in the assassination of Sunday Leader Editor Lasantha Wickramathunga in January 2009.
Mr Fonseka was charged with conspiring to overthrow the government, after his defeat to President Mahinda Rajapaksa at January's presidential elections. Dozens of military personnel were also arrested.
While in custody, Mr Fonseka, a former four-star general, was elected to the parliament.
Widely seen as the main strategist of the military success over the Tamil Tigers, he had fallen out with the president over who should get credit for the military victory.
Mr Fonseka was dishonourably discharged by a military court which convicted him of engaging in politics while in uniform.
He also faces a lengthy prison sentence after another recent court martial found him guilty of corrupt arms deals.