Pakistanis angry after US jails scientist for 86 years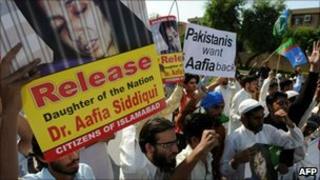 Protests are continuing in Pakistan after a US court jailed a Pakistani scientist for attempted murder.
Aafia Siddiqui was sentenced to 86 years for trying to kill US government agents in Afghanistan in 2009.
Several thousand people gathered in protest in Peshawar and there were smaller demonstrations in Islamabad, Lahore and Karachi.
Pakistan's prime minister called the sentence unfortunate and said he would take the matter up with US officials.
Pakistan's foreign office also condemned the court decision.
Nearly 4,000 Jamaat-e-Islami activists demonstrated at Jinnah Park in Peshawar, while hundreds more protested in other parts of the city.
In Karachi, police fired shots in the air and tear gas to prevent protesters from marching on the US consulate.
Small but vocal groups of demonstrators also chanted anti-American slogans and burnt US flags and effigies of US leaders in Islamabad and Lahore, correspondents say.
Questions
Prosecutors in New York called Siddiqui an al-Qaeda sympathiser and sought life imprisonment.
She was being interrogated by US officials in Afghanistan when she grabbed a rifle and opened fire, shouting "Death to Americans", the court heard.
A unanimous jury found her guilty in February of attempting to murder US and Afghan military personnel.
Prosecutors used notes she was carrying at the time of her arrest - which included references to constructing dirty bombs and a list of New York City landmarks - as evidence that she was a potentially dangerous terrorist. She was also carrying sodium cyanide, a toxic substance, the court was told.
Siddiqui's lawyers argued she was mentally ill. They argued there were no fingerprints or gunpowder traces to show their client even picked up the rifle, and plan to appeal.
The BBC's Syed Shoaib Hasan in Karachi says many questions about Aafia Siddiqui remain unanswered - most notably five years between 2003 and 2008 when she disappeared with her three children. One child has never been traced.
Many Pakistanis believe she was kidnapped by the US authorities with the help of Pakistan's security agencies, allegations both countries deny.
Our correspondent says that although Pakistan has been providing consular and legal support for Siddiqui, many Pakistanis believe their government's professions of support for her are aimed at assuaging an increasingly angry public.
Plea for peace
Siddiqui, 38, is a neuroscientist who had studied at the prestigious Massachusetts Institute of Technology in the US before returning to Pakistan and marrying a relative of accused 9/11 mastermind Khalid Sheikh Mohammed, the court heard.
Her case attracted attention from human rights groups amid claims from her family that she had been tortured.
Siddiqui was vocal during her trial, which resulted in her ejection from the courtroom on several occasions.
In a statement before the court on Thursday she denied allegations she had been tortured while in jail in the US and said she did "not want any bloodshed".
Siddiqui's sister, Dr Fowzia Siddiqui, said the sentence would "prove to be harmful for the US, in every way".
"This decision proves that the system of justice, that the US believes is its pride, is no longer effective."