Afghan women are commissioned into the army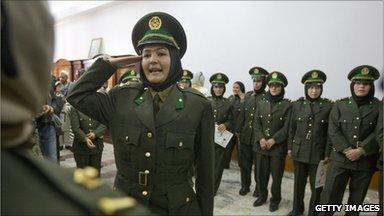 The first female Afghan officers since the early 1990s have been commissioned into the army.
Twenty-nine women passed out from a class of new recruits who hope to take the lead role in security from foreign forces by 2014.
Their recruitment is part of a huge US-funded training programme. Women were forbidden from serving by the Taliban.
The aim is to strengthen army and police ranks so that 150,000 foreign forces can begin to withdraw.
"I always wanted to be a part of the ANA (Afghan National Army) and am so proud to wear this uniform," 25-year-old Meena Sharifi - one of the 29 women in the graduation ceremony at the Army Training Centre on the outskirts of Kabul - told the AFP news agency.
"I want to defend my country against its enemies."
The women will not however be sent to the front line of the fight against the Taliban, which is at its fiercest since the US-led invasion of the country in 2001.
US President Barack Obama has set a deadline of mid-2011 for American troops to begin withdrawing from Afghanistan and military commanders in Kabul say that the training programme is of paramount importance if the transition is to take place smoothly.
Women served in the army of Afghanistan's communist-backed regime in the 1980s but retreated from military service during the country's ensuing civil war.
The British officer who oversaw their training said all the new recruits were good and enthusiastic soldiers.
"[They are] all keen as mustard to join the Afghan National Army, and I think you will have seen today a very professional display - and that is the bottom line," Gen David Peterson, commander of the Army Training Centre, told the Reuters news agency.
Afghanistan's armed forces and police number roughly 300,000 personnel.
"The size of our army has increased to 136,000 soldiers, up from about 97,000 in November last year. We must work harder to increase the size and quality of the army in the coming years," ANA chief of staff Gen Shir Mohammad Karimi said.
Related Internet Links
The BBC is not responsible for the content of external sites.