Seven elephants killed by goods train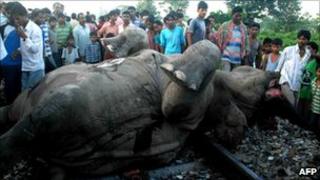 Seven elephants were killed after being hit by a speeding goods train in India as they attempted to rescue two young ones on the track.
Officials in West Bengal said five died instantly and two others later succumbed to their injuries. Another elephant was wounded but survived.
The baby elephants became trapped on the track at Moraghat Tea Garden, near Binnaguri in Jalpaiguri district.
The others wandered onto the line in an attempt to free them.
The track, which connects New Jalpaiguri to Assam, was closed down for several hours after the collision, as other elephants were guarding the dead and injured animals.
'Regular accidents'
Forest officials say that speeding trains regularly hit elephants in the area as the track crosses the elephants' known route, according to the Times of India.
They say they have asked railway officials to reduce the speed limit in the area to prevent such incidents occuring.
Three months ago, an elephant was killed nearby in a similar accident.
Trains have killed 118 elephants in India since 1987, according to the Wildlife Trust of India.