Third Sri Lankan suspect killed in custody this month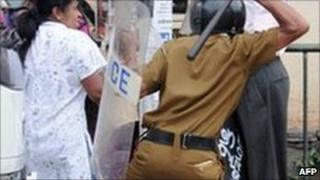 Sri Lankan police have shot dead an underworld suspect in custody - in the third such killing this month.
Police said they arrested the man and took him to a home where he was thought to have stored drugs and weapons.
According to a police spokesman, officers opened fire as the suspect then tried to hurl a grenade at them.
But human rights campaigners suggested the shooting of Kamal Dammalaarachchi - who died later in hospital - amounted to an extrajudicial killing.
"It is the duty of the court to punish those found guilty, if the rule of law prevails in Sri Lanka," Chrishantha Weliamuna, a leading human rights lawyer, told the BBC.
"If this trend continues, police will soon start even passing the laws in parliament."
There was outcry last year against the police after officers brutally assaulted a student, and two other youths died in custody near the Sri Lankan capital Colombo.
But the BBC's Elmo Fernando, in the city, says the public seems to quietly approve of the police's recent tough action against criminal suspects.