Pakistan drone attack kills 14 in South Waziristan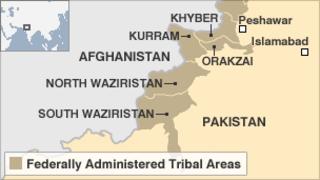 At least 14 militants have died in a suspected US drone strike in north-western Pakistan, local officials said.
The two raids are said to have targeted a vehicle and a house in the Khund and Azam Warsak areas of South Waziristan.
There has been a spate of drone strikes since Pakistan's recent floods but these are the first in the South Waziristan region for two months.
The raids have killed hundreds of people since January 2009 and fuelled anti-US sentiment in Pakistan.
A local official told the BBC seven local militants were killed when two missiles hit their vehicle in Khund on the border on Tuesday evening.
Witnesses say the vehicle was entering Afghan territory when it was attacked.
Officials said the militants belonged to the Mullah Nazir group of the Pakistani Taliban.
A few hours later, a drone fired four missiles at a compound in Azam Warsak village, 10km (6 miles) north-west of Wana, the central town of South Waziristan, officials said.
Seven more militants belonging to the same group were killed there.
The compound, allegedly a base for Commander Shamsullah, a deputy head of the Mullah Nazir group, has been destroyed, witnesses said.
Officials said some aides of Commander Shamsullah were among the dead, but he was away at the time at the funerals of those killed in the earlier strike.
Pakistan publicly objects to the strikes, but analysts believe such raids have the private backing of officials.
The American military does not routinely confirm drone operations, but analysts say the US is the only force capable of deploying such aircraft in the region.