Barack Obama's administration 'divided' over Afghan war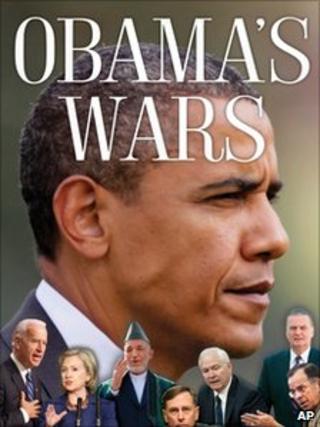 US President Barack Obama's senior advisers have been waging internal battles over Afghan policy for 20 months, according to a new book.
Obama's Wars by Bob Woodward is said to portray an uncertain administration as the president agrees to a troop surge of 30,000.
In one excerpt leaked to US media, US special envoy Richard Holbrooke sums up US policy by saying: "It can't work."
In another, President Obama tells a meeting he wants an exit strategy.
A number of US media outlets have had access to the book, including the Washington Post and the New York Times, which said it had obtained a leaked copy.
The White House has so far made no public response.
However, a senior administration official said that the book "does not reveal anything new related to our strategy in Afghanistan".
In an e-mail to the BBC, the official, who did not want to be named, added: "The fact that there was a vigorous debate surrounding the development of our strategy in Afghanistan is nothing new.
"The president comes across in the book as he was in the meetings and throughout the decision-making process: as a commander-in-chief who is analytical, strategic and decisive, with a broad and clear-eyed view of our national security and his role as president."  
'Dramatic misreading'
Among the main points of the book that have emerged are:
Afghanistan adviser Lt Gen Douglas Lute and Mr Holbrooke appear dubious about US strategy
President Obama rejected a Pentagon request for 40,000 extra troops
His main concern is portrayed as reducing US troop numbers
A withdrawal timetable was set because the president could not "lose the whole Democratic Party"
Former national intelligence director Admiral Dennis Blair fought with both the White House chief-of-staff and counter-terrorism adviser
BBC North America editor Mark Mardell says that what is perhaps most significant in the revelations is the hint of future conflicts over the timetable for a US withdrawal.
The top US soldier in Afghanistan, Gen David Petraeus, is said to believe the military could "get more time on the clock", before being told by a senior adviser: "That's a dramatic misreading of this president."
But the president is portrayed as insistent that a US withdrawal should begin in July 2011.
According to the Washington Post, Mr Obama is quoted in the book as saying: "This needs to be a plan about how we're going to hand it off and get out of Afghanistan."
The New York Times says a six-page document dictated by Mr Obama is reproduced in the book, laying out the terms of his troop order and its objectives to prevent the defence department from reinterpreting his decision.
Veteran reporter Woodward made his name exposing President Richard Nixon's cover-up of Watergate and has more recently written a searing account of President George W Bush and the Iraq war.
His latest work claims the CIA is running a covert 3,000-strong army which captures and kills Taliban fighters.
It also reports intelligence suggesting Afghan President Hamid Karzai has been diagnosed with manic depression and is taking medicine.