Fresh Karachi violence 'leaves 14 dead'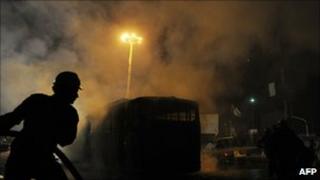 At least 14 people have been killed in two days of violence in the Pakistani city of Karachi, officials say.
The unrest follows the murder in London of Imran Farooq, a founder of the MQM party whose power base is in Karachi.
Analysts believe Mr Farooq's murder is linked to the re-emergence of political violence in the city.
The latest clashes began during the funeral of a man who was killed during demonstrations on Sunday. Eyewitnesses say shots were fired.
Armed men and security forces clashed during the funeral procession in at least two localities of Karachi - Nazimabad and Liaquatabad.
The MQM accuses the government and the interior ministry in particular of being behind the violence, allegations the authorities deny.
The MQM's Dr Farooq Sattar told the media that the motive of the violence was "to paint the party in a bad light for the international community".
Meanwhile, gunmen riding motorbikes have targeted a number of individuals in different parts of the city.
Those targeted included members of the MQM, President Zardari's Pakistan People's Party and the banned sectarian Sipah-e-Sahaba militant group.