Kashmir's 'martyrs' graveyard' busy again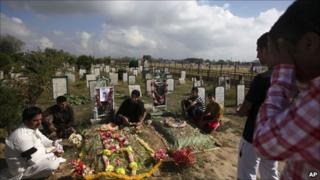 The "martyrs' graveyard" in Indian-administered Kashmir's capital, Srinagar, is again burying victims of conflict.
"There are over 1,000 martyrs here," grave-digger Abdul Hameed says, matter-of-factly. "This year," he says, "it's looking bad again."
We are taking a walk down a narrow cobblestone pathway running through rows of graves in the cemetery. Buried here are - mostly - men, women and children who have died in the bloody insurrection against India.
The cemetery sits on the western edge of Srinagar, flanked by the Himalayas and vast fields on one side and a busy neighbourhood of dull brick and timber homes on the other.
Mr Hameed is a middle-aged, sunburnt man who looks after this oasis of the dead. This year has seen one of Kashmir's bloodiest summers in over a decade - more than 100 civilians have lost their lives in an almost equal number of days in clashes with security forces.
About 70,000 people have been killed in Kashmir since 1990.
Deaths foretold
"But the 1990s were the worst," Mr Hameed says, when I ask whether the violence this year is the worst he had seen.
"One day, in the early 1990s, I buried 15 people in a single day. They had all been killed by security forces." By contrast, he says, 2009 was one of the "quietest" in the history of the graveyard.
The cemetery, in many ways, is a chronicle of death foretold.
When fighting broke out between stone-throwing protesters and the security forces in June, Mr Hameed and his men dug some 50 fresh graves anticipating a procession of the dead.
"We dug them up, just in case," he says, looking away at the mountains. Death can come easily in Kashmir, so the good caretaker prepares for it in advance.
From a distance the graveyard looks like a park. As you approach it, the inscription on an ornate gate - 'Lest You Forget We Have Given Our Today For Tomorrow of Yours' - offers a reminder of its residents. The graves are neatly laid out in rows. Roses and irises bloom among the dead. Garlands of paper and plastic flowers are slung around some recent tombstones.
In the chaos and clamour of a troubled, bleeding city, it is a calm, orderly place.
The martyrs' graveyard also offers a contemporary history lesson on the insurrection ever since the valley exploded into full blown militancy in the early 1990s.
There is an empty grave for Maqbool Bhatt, founder of the Jammu and Kashmir Liberation Front, a local pro-freedom guerrilla group. "The grave waits for him" says the tombstone. Bhatt was hanged and buried in a Delhi prison in the late 1980s.
There are some telling epitaphs that point to the sentiments of freedom and feeling of subjugation in the valley: "When Slaves Are Martyred They Are Relieved of Their Pain," reads the tombstone of 22-year-old Ashiq Hussain, who was killed on 20 August 1996.
'Labour of love'
The epitaph for Tufail Mattoo, a young boy who was killed after a tear gas shell fired by the police exploded on his head in early June and triggered off the current protests, simply says God Bless You. There is a "fresh" three-day-old grave covered by a piece of red cloth with almonds strewn on it. It belongs to a teenager killed by police fire.
The youngest buried here is a two-year-old boy, Saqib Bashir, who, according to locals, was shot by security forces along with his mother over a decade ago. The oldest is 72-year-old Abdul Ahad Khan, who was killed in 1992.
"The one time I was really moved was when they came to bury Saqib. I remember six people were killed that day in police firing," says Mr Hameed.
Then there are the graves of the militants: the operations chief of al-Umar Mujahideen, a local guerrilla group, close to a 20-year-old member of Hizbul Mujahideen, a group which stoked the uprising from across the border.
There is the grave of a 27-year-old man from Gujranwala, Pakistan, called Haroon alias Pir Baba, who was killed in May 1997. Nobody, clearly, claimed his body back home.
When we sit down for a moment among the dead I ask Mr Hameed if he ever tires of his job.
"It is a labour of love. I get a salary of 2,000 rupees ($42; £27) and some tips from families who come to bury the dead. I have to do this job," he says, quietly.
Mr Hameed was 25 when he began working at the graveyard; he is now in his forties. He is married with two children and lives with his ailing mother. He is a reticent, subdued man.
I prod him repeatedly on how peace can be restored in the valley. He finally opens up.
"The solution to this problem will only be arrived at when India, Pakistan and [the] Kashmiri people meet at the same table. Our kids pelt stones, the security forces fire a bullet. What kind of a democracy do we live in?" he says.
Though the graves in the cemetery are dug on what used to be paddy fields in the early 1990s, honouring the dead as martyrs is an old tradition here.
"In Srinagar people still visit the graves of men who stood up to rulers and were killed for their defiance centuries ago," says Kashmiri writer Basharat Peer.
"There is another martyrs graveyard, where the men who were killed by the forces of the Dogra ruler of Kashmir Hari Singh in 1931 are buried."