Sri Lanka war panel hears of Tamil disappearances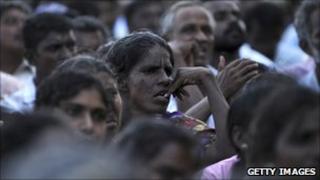 People in northern Sri Lanka have told a war inquiry that family members who served with the Tamil Tigers disappeared after surrendering.
They said their loved ones went missing at the end of the war in May 2009.
The defence ministry blocked the BBC from covering proceedings in the former rebel headquarters of Kilinochchi.
But Sri Lankan journalists who did attend said the panel now intends to question security force officials on the subject of missing people.
Harrowing testimony
Accounts from the panel's hearings in Kilinochchi suggest that, as before, Tamil people used the mechanism to air their grievances - including the fact that they have lost all contact with their detained relatives.
One mother quoted by the Tamil-language paper, Thinakkural, said she witnessed her husband and two children - all former Tigers - surrendering to the army following mediation from two Roman Catholic priests.
The woman said her family and others who surrendered were taken away in 16 buses.
Now she did not know where they were, despite searching all the known detention camps and refugee centres.
Others, who said their family members were forcibly recruited by the rebels, had similar accounts.
The Sri Lankan Sunday Times quoted harrowing testimony from within the war zone from an agriculture official, N Sundaramoorthy.
It quoted him as saying that in one incident, shelling and aerial strikes killed some 40 to 45 pregnant women and babies as they queued for food.
His own daughter was injured when a bullet went through her throat.
The government paper, the Daily News, also said women had reported their husbands missing.
Its reporter said the war commission's chairman intends to summon officials of the Criminal Investigation Department to inquire about missing people and those detained in camps.
It said witnesses broke down in tears recalling how the Tamil Tigers had abducted their children.
The government says the commission is the definitive way to examine the final years of the conflict and promote reconciliation. It has rejected international calls for an external inquiry.