Pakistan Indus flood diary - day seven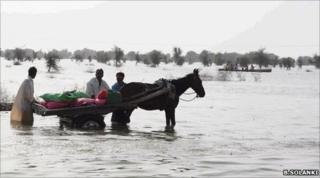 For the last week, the BBC's Aleem Maqbool has traced the path of destruction wreaked by Pakistan's recent floods, as he travelled the length of the country on the mighty Indus river.
In his diary's seventh and final instalment, Aleem visits the village of Bahn Saeed Abad near Dadu in southern Sindh where his trip is brought to a halt by the raging flood waters.
DAY SEVEN: BAHN SAEED ABAD VILLAGE, SOUTHERN SINDH
After seven days, and over 2,000km (1,240 miles) along the route of the River Indus, the end of our journey came very abruptly.
From Sukkur, we had driven deep into interior Sindh, and some of the poorest communities in Pakistan.
The intense heat and the dusty plains gave us little preparation for what we were about to see.
As we travelled south from the town of Dadu along the Indus highway, we drove up a small incline in the road.
It was there that we were brought to a sudden halt by the most incongruous of sights.
People gathered in the road in front of us. Beyond them the road sank and disappeared. As far as we could see into the distance, everything was submerged in water.
For miles around, treetops, electricity pylons and the roofs of buildings poking up through the waters seemed the only indications that we had not reached the Arabian Sea.
We had finally caught up with the huge body of water that had fallen in the north of the country as the heaviest monsoon rains on record, and that had then caused so much destruction and misery as it surged the length of Pakistan.
It had taken several weeks to get this far.
We stood and stared out for some time, taking in the unbelievable scene.
Muhammed Zaman, 28, was there too, looking back at where his village had once stood some distance away.
He pointed out the trees that indicated where his house, in which he had been living with his family until just a few days ago, had been.
"It's so difficult to describe how upset I am looking at this," he says.
"My home, our farms, the graveyard where all the members of my family have been buried for generations, are all under water."
Instead of the noise of activity from the many communities that had been here, there was silence.
It was broken by the sound of a motor; the Pakistan navy had been out on another rescue mission and was coming back with nearly 20 men, women and children, all from the same family, who had been stranded.
"Our house is high up, so we thought we were safe," says Khalid Hussain after stepping on to dry land.
"But we've never seen anything like this. I just had to save the lives of my family.
"Never did we expect that what happened last month in Pukhtunkhwa (northern Pakistan) would affect us here."
The navy agreed to take us on their next outing, to a village named Qasim Ali.
We rode over what had been people's fields and gardens and roads, being careful not to hit remnants of the rare perimeter walls that were still standing.
They pointed out the upper portion of Qasim Ali's Girl's Primary School, and the top of the mosque and, close by, the community centre.
Every one of the 80 or so homes in the village was submerged.
Amid the stillness we suddenly saw movement on some raised ground.
We called out, and gradually, the figure of an elderly man became clear.
He told us his name was Muhammed Omar, and that he was not going to leave the home he built for his family whatever happened.
"Everything I worked for is here," he said crouching on a pile of bricks that were once part of his wall.
"I am not going to let the waters take it, or for looters to steal my belongings."
I tell him the waters are still rising and are expected to for some time, and ask if he is not worried about his safety.
"I am only afraid of God," he says.
He refuses the offer of assistance and we move on.
Just moments later we find a man struggling to get through the waters, who does want help.
With just one hand, he was swimming through the waters trying to get to higher ground.
In his other hand, he held a few possessions above his head.
We pulled him on board, along with two other people we found squatting on the roof of a school building.
Right across this country are millions of individuals living through desperate times because of this crisis.
It felt like this final day of our journey had led us back to the beginning of this disastrous story.
Along the entire length of this country, relatives have been lost, homes and land destroyed, infrastructure so brutally torn apart, and livelihoods snatched away.