Sixty killed in Indian landslides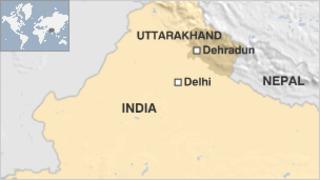 More than 60 people have died in flooding and landslides in the northern Indian state of Uttarakhand in the past two days after heavy monsoon rain.
Thousands of people in the worst affected districts have been forced to leave their homes.
Some rivers have burst their banks and houses have been crushed by falling rocks. There are also reports that some highways are blocked by debris.
Security forces have been deployed to help with the rescue effort.
Officials say more heavy rainfall is expected in the coming days.
In August, at least 18 children were killed when a school building collapsed in the remote village Sumgarh in Uttarakhand following heavy monsoon rains.