Afghan poll workers' bodies found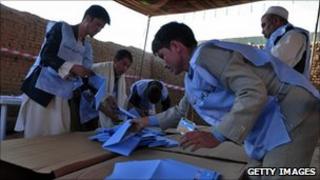 The bodies of three members of Afghanistan's Independent Election Commission (IEC) kidnapped in Balkh province during voting on Saturday have been found.
Taliban militants had vowed to disrupt the vote for the lower houses of parliament.
The discovery of the bodies means at least 17 people were killed on election day in about 445 violent incidents.
It comes as a monitoring group raised serious concerns about electoral fraud.
Ink problems
The Free and Fair Election Foundation of Afghanistan said it had found "extensive irregularities" and urged the IEC "to ensure the integrity of the rest of the electoral process".
The foundation's Nader Nadery told the BBC it was to be welcomed that more people had voted than expected and that casualties from attacks were lower than anticipated.
But he said there were many problems with the indelible ink used to stop multiple voting, with proxy votes, interference by local power brokers and with a large amount of intimidation.
Announcing the death of his colleagues, IEC chairman Fazl Ahmad Manawi said: "Unfortunately three IEC workers who were abducted yesterday in the Chemtal district of Balkh province were killed and we found their bodies today."
He said about 29 other election workers had been wounded in incidents on Saturday, according to preliminary reports.
A spokesman for Nato's Isaf said the level of violence on polling day had been similar to last year's presidential election, during which 479 violent incidents were recorded.
Low turnout
International officials have hailed the bravery of voters who turned out in defiance of the Taliban threat.
More than 2,500 candidates are vying for 249 seats in the lower house of parliament, or Wolesi Jirga.
Turnout has been put at 40%.
Preliminary results are to be announced on 22 September, with the final results due on 31 October.
The outcome is not expected to change the make-up of the government, although President Hamid Karzai's credibility may be damaged if his preferred candidates are defeated, or if vote-rigging is suspected, correspondents say.
However, the many reports of fraud may raise questions about the results.
The BBC's Lyse Doucet in Kabul said that among the incidents of fraud were the arrest of 26 people with fake identity cards in Helmand province, and reports of officials stuffing ballot boxes at one closed polling station in eastern Wardak province.
The Taliban had earlier warned voters to boycott the poll and "stick to jihad".