Kashmir clashes continue as residents defy curfew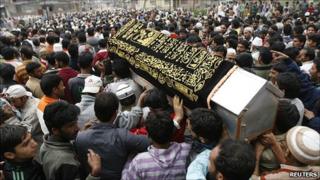 Police and protesters have clashed violently in Indian-administered Kashmir as residents continued to defy a valley-wide curfew.
In Anantnag, government forces opened fire on a funeral gathering, killing one civilian and wounding several.
In Palhalan, AFP reported that police fired on demonstrators trying to block a highway, killing two men.
Anti-India sentiment is high in Indian-controlled Kashmir, where more than 100 protesters have died since June.
Nearly all of those killed have been shot dead by government forces. The valley has been under an almost round-the-clock curfew for more than a week.
Conflicting accounts
In Anantnag, south of Srinagar, thousands defied the curfew and gathered to mourn 17-year-old Fayaz Ahmad, whose body was recovered from a river on Saturday morning.
Residents said the boy drowned when he was chased by paramilitary soldiers trying to break up an anti-India rally earlier in the week.
Police and soldiers opened fire on a group of mourners, but there are conflicting accounts of the incident.
A police official told AP news agency the shots were fired after some mourners tried to set fire to the house of a pro-India politician. But a resident denied this, telling AP that the gunfire was "unprovoked".
Quoting another police officer, AFP news agency said that security forces shot at a crowd who pelted stones at officials as they recovered the body from the river.
The Kashmir dispute has been the cause of major tension between India and Pakistan for six decades.
Many analysts see the recent protests as the biggest challenge to Indian rule in Kashmir for 20 years.