Fear, anger and frustration ahead of Afghanistan's poll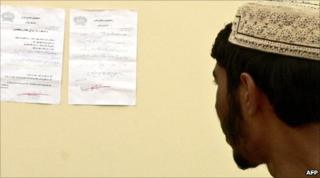 Fear, anger and frustration. This is how an elder from a village in the restive province of Ghazni described the mood on the streets ahead of Saturday's parliamentary elections in Afghanistan.
Although the Afghan government and the Independent Election Commission (IEC) have assured full protection to all those willing to exercise their franchise, the elder said not many people in his Godali village were willing to take a chance.
''The Taliban descended on our village last (Thursday) night. They posted hand-written notes on our doors and the walls of the local mosque.
"The notes say anyone taking part in the vote will be killed. We are scared,'' the elder told me, requesting that his name be kept confidential.
The Taliban had in the past cut fingers and noses and even beheaded people for embracing democracy.
A recent Taliban statement termed the elections as a "strange" process introduced by the "occupiers" and called upon fellow Afghans to stay away from voting.
'Invitation to death'
Afghans living in the country's remote and often lawless areas are not taking such threats lightly.
"We have [voter] cards but there is no polling station in our village. If we leave for another district or city to cast our votes, the Taliban would know as they have checkpoints across the village," a farmer in Gandomak village in the eastern province of Nangarhar told the BBC by telephone.
"Voting here means an invitation to death,'' the farmer added. He also requested anonymity.
The IEC has ordered closure of 114 out 501 polling stations in the province. It said it could not guarantee a free, fair and safe election at those polling centres.
An instruction issued by the country's health ministry to hospitals across Afghanistan has further added to the fear factor. The ministry asked hospitals to be on standby until the voting finished.
All this has left a big question mark on people's participation in Saturday's elections.
'They all lie'
Fear, however, is not that big an issue in the capital Kabul, a relatively safe zone in Afghanistan.
It is anger and frustration that may decide Kabulis' participation in the vote.
''What did the first parliament [elected in 2005] do for me?'' asked Imamudin, who sells bananas in central Kabul.
It seems ironical as Imamudin's cart is parked near a wall which is covered with hundreds of posters of parliamentary candidates.
This father of six said he voted in the last elections, when politicians promised him employment and a new road in his west Kabul neighbourhood. The job and the road never happened.
''They all lie. They all steal. They deceive people, so I won't vote," he said.
But car mechanic Sher Mohammad said he would vote.
"Not because I think the parliament will do anything for the poor. But if we don't vote then guns, tanks and the Taliban will be back."
But he knows the situation is vastly different outside the capital.
"In Kabul, I vote because I can. But in other places, voting can cost you your life.''
On a recent visit to Ghazni, I had asked Abdul Haq, a 67-year-old pomegranate seller, about his plans for 18 September.
Mr Haq redirected the question to me: ''Is this vote more important than my life?"