Sri Lanka bans BBC from covering civil war hearings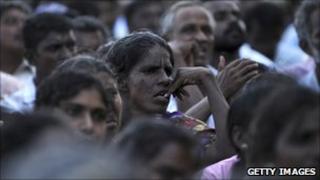 The BBC has been blocked from covering public hearings about Sri Lanka's civil war in former rebel-held territory.
For three days, civilians will have the chance to give evidence on life under the Tamil Tigers or LTTE.
The government says the Commission on Lessons Learned and Reconciliation is working to prevent a repeat of the conflict.
A senior defence ministry official said he could not allow the BBC to attend the sittings, due to start on Saturday.
An important part of the commission's work is to meet ordinary Tamil civilians who were displaced by the war and suffered severe trauma, injury or the loss of close family members.
This weekend the panel will travel to Kilinochchi and Mullaitivu - a former Tamil Tiger heartland in the north of the country.
The panel will travel to the lagoon which was the scene of some of the last fighting and across which many people fled from the guerrilla-controlled zone.
Many of the hearings on this trip will be held in public but the defence ministry has rejected an application by BBC News to witness the panel's activities on this leg of their mission.
The military liaison officer declined to give any reasons.
In August, the BBC attended panel hearings in an unrestricted part of the north but was not allowed to attend its meetings in camps with refugees and suspected former rebels.
Sri Lankan government officials regularly accuse journalists, both foreign and domestic, of bias against the administration.
On Monday, a newspaper editor told the commission that he believed such perceptions were made worse by the systematic restrictions on reporters wishing to travel in the north.