Sri Lanka ex-army chief Sarath Fonseka 'found guilty'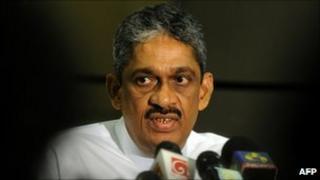 A military court has convicted Sri Lanka's former army chief of corruption, his lawyer says.
Sarath Fonseka was found guilty of breaching arms procurement guidelines.
Last month, the MP was stripped of his rank and pension after being convicted of engaging in politics while in uniform. He denied all the charges.
Fonseka led troops to victory last year over the Tamil Tigers, but fell out with the president when he stood unsuccessfully against him in polls.
Mr Fonseka's lawyer, Sunil Watagala, told BBC Sinhala on Friday: "They have decided that Fonseka is guilty of four charges. Therefore we have decided to go to the court of appeal to challenge that decision.
"They are still considering the sentence. They are going to meet again for the sentence." Mr Watagala did not know when that would be.
'Politically motivated'
As the case has been handled by a military court, Mr Fonseka's arch-rival President Mahinda Rajapaksa, as commander-in-chief of the armed forces, must approve the eventual sentence.
Mr Fonseka also faces charges in the civilian courts of employing army deserters and revealing state secrets.
The former four-star general and his supporters say the cases against him are politically motivated.
If Mr Fonseka is jailed for any longer than three months, he will lose his parliamentary seat.
He was arrested two weeks after his defeat in January's presidential elections and has remained in military custody since.
He has been allowed to leave jail under military escort to attend parliament since April, when he was elected an MP for the opposition Democratic National Alliance (DNA).
He was hailed as a war hero by the majority Sinhalese community in May last year after he led the army to defeat the Tamil Tiger separatists, bringing an end to 26 years of civil war.