Imran Farooq's key role in Pakistani politics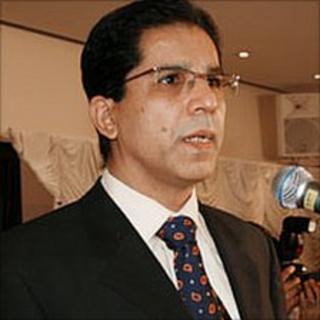 Imran Farooq, stabbed to death in London, has been an important figure in Pakistani politics for many years. From exile, he has helped lead the MQM (Muttahida Qaumi Movement) which is the dominant party in Karachi, as the BBC's Syed Shoaib Hasan reports.
Imran Farooq vanished from Pakistan in 1992 after security forces launched what was known as "Operation Clean-up" in the city of Karachi.
He reappeared in London in 1999, when he claimed political asylum.
The MQM was, and still is, the dominant party in Karachi - Pakistan's largest city and commercial capital.
There is a great sense of grief among the MQM party cadre in Karachi at the moment, and party leaders have been seen weeping openly.
Observers say that there could be an unprecedented backlash if the attackers have any connection with Pakistan.
The operation that drove Mr Farooq into exile was targeted against what the then government said was the MQM's use of strong arm tactics against opponents in the city.
Mr Farooq, a former Pakistani parliamentarian, was one of the founding members of the MQM.
Although the party advocated liberal policies, it built its reputation on the back of ethnic violence which wreaked havoc in Karachi in the 1980s.
The violence pitted the Mohajir community - immigrants from India after partition and now the MQM's power base - against the Pashtun ethnic group.
While the MQM rode to power on the back of this conflict, opponents continued to accuse it of using strong arm tactics, including kidnapping, torture and murder.
Growing popularity
The MQM's leadership has always denied these accusations.
It says Operation Clean-up was in fact an excuse to target the growing popularity of the only successful working-class party in Pakistan.
Many MQM leaders, including party chief Altaf Hussain and Mr Farooq, left the country for the UK after being charged in a number of criminal cases.
At least 8,000 people died in Operation Clean-up from 1992 to 1998.
During this time, the MQM's anti-government campaign was run from London - with Mr Farooq being largely seen as the key figure.
Although the MQM has since been rehabilitated and is now a key part of Pakistan's PPP-led ruling coalition, its fearsome reputation remains.
In August 2010, at least 80 people were killed in three days of violence after MQM parliamentarian Raza Haider was assassinated in Karachi.
Most of those killed belonged to the Pashtun community, whom MQM leaders had initially held responsible for the attack.
Investigators later laid the responsibility for the attack on jihadist militants belonging to the pro Taliban Lashkar-e-Jhangvi group.
In recent years, the MQM has taken a strident anti-Taliban and anti-jihadist line. The party has also been calling for an anti-militant operation in Karachi, which its says, has become a Taliban and al-Qaeda safe haven.