New figures show 19 Afghan election-related deaths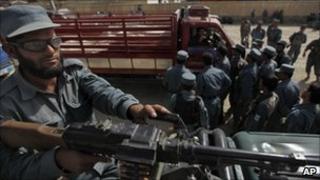 The Afghan Free and Fair Election Foundation says that there have been 19 election-related deaths prior to Saturday's parliamentary vote.
It says that the deaths - including four candidates - all took place between 15 July and 25 August.
Officials say that about 280,000 police and soldiers will protect nearly 6,000 voting centres. But one in six will not be open because of security fears.
The Taliban have warned voters to boycott the poll and "stick to jihad".
In what correspondents say is a thinly veiled threat, the insurgents said in a statement that they have "already chalked out certain measures... to frustrate this American process and will implement them on the day when the illegitimate process of elections is conducted".
Letters believed to have been distributed at night time by the Taliban in the city of Ghazni warned locals that anyone taking part in the vote would be punished.
'Innovate and interesting'
The foundation figures show that election violations took place in Baghlan, Takhar, Badakhshan, Helmand, Nanagarahr, Ghazni and Kabul.
It says the main concerns are:
220 incidents of election-related violence and intimidation
310 incidents of local officials expressing their support for candidates
182 incidents of candidates using government resources.
91 cases of security officials taking part in the campaign while wearing uniforms
Not everything about the statistics supplied by the foundation is negative. It says that "some good things about the campaign are apparent".
It says that 50% of the candidates are new and the media played an important role to introduce them and their agendas to the public.
Candidates used "innovative and interesting ways of campaigning", it adds.
The BBC's Dawood Azami in Afghanistan says that it will be a big challenge for the election commission to prove to people that the election will be free and fair.
Indelible ink is to be used to mark voters' fingers to combat fraud and the Independent Election Commission (IEC) says it has registered 300,000 observers.
The elections are seen as a test of stability in the conflict-torn country.
Vote counting will be done manually and preliminary results are to be announced on 22 September, with the final results due on 31 October.
Last year's presidential poll - won by President Hamid Karzai - was marred by widespread fraud.
Mr Karzai - under strong diplomatic pressure - eventually accepted that irregularities had occurred but his main rival, Abdullah Abdullah, withdrew from a run-off saying the vote could not be free or fair.