Young Tamils in Sri Lanka 'being held without charge'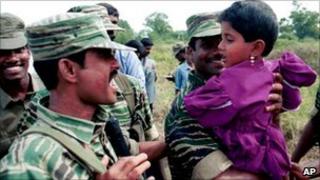 A retired senior diplomat in Sri Lanka says several thousand young people of the Tamil ethnic minority are being held in custody without any charges being brought against them.
Nanda Godage said some had been incarcerated in this way for years.
He was testifying before a war commission, which is examining the final years of the long-running civil conflict which ended last year.
The commission also looks at ways of preventing war from breaking out again.
Mr Godage, a former Sri Lankan ambassador to the European Union, told the commission that at least 2,000 young Tamils had been in detention for years on suspicion of involvement with the Tamil Tiger rebels.
These were in addition to several thousand people who had been held in camps since the end of the fighting last year, he said.
They had been failed by the legal system, he alleged.
By holding them in this way, he charged, the Sri Lankan state was in danger of "breeding many more Prabhakarans" - a reference to Vellupillai Prabhakaran, the leader of the Tamil Tigers who met his death as the war ended.
Mr Godage told the BBC he was especially angry about 500 young people who were being held purely on suspicion in a Colombo jail, Welikada, under the Prevention of Terrorism Act.
If there was no evidence against them and the others, they should be freed, he said, although he acknowledged that the security of the state was vital.
Forgotten
He told the panel of a case he said was typical: a Tamil engineer who admitted to the police that he had given money to the Tigers while working in the UK.
The man had spent more than a year in prison despite explaining that many Tamils abroad were forced to make such donations.
The retired diplomat said some top officials sympathised with these detainees, but that complex bureaucracy meant they were forgotten about.
Former Tamil Tiger members or suspects who are still alive are receiving mixed treatment in Sri Lanka.
The most senior of them, nicknamed KP, is nominally detained, but is co-operating with the government in building links with the Tamil diaspora.
Another senior ex-Tiger has just told the BBC that he is helping to run a television station in the north while out on bail from a court case.