Emotional homecoming after 21 years for Sri Lanka widow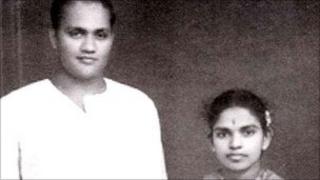 It is an intensely emotional homecoming for Mangayarkarasi Amirthalingam.
After 21 years she has returned to the residence where her family stayed in Colombo on the fateful day her husband - one of the most prominent Tamil political leaders of the past half-century - was shot dead by the Tamil Tiger rebels.
"Sri Lanka is a beautiful country but the war destroyed everything," she reflects ruefully.
Mrs Amirthalingam is at the place where her husband - who in contrast to the Tamil Tigers advocated a peaceful solution to Sri Lanka's ethnic divisions - was murdered in Colombo in July 1989.
Brutal conflict
Appapillai Amirthalingam was the only Tamil leader ever to become leader of the opposition in Sri Lanka and was the last Tamil politician to command a mass following.
Since his death, no other Tamil leader has appealed so strongly to the masses.
The suffering of his widow reflects the suffering of tens of thousands of Sri Lankan war bereaved over the past two decades.
The only difference perhaps is that Mrs Amirthalingam was fortunate enough to flee the ravaged country and live in UK.
She returned to Sri Lanka with her youngest son Bahirathan, to find out what the future holds for the Tamil community after decades of brutal conflict that finally came to end with the defeat of the Tamil Tigers - known as the Liberation Tigers of Tamil Eelam (LTTE) - in May last year.
They made sure to visit Mr Amirthalingam's loyal security guard, Nissanka Thibbotumunuwa - a Sinhalese national - who killed all three Tamil Tiger assassins on the spot.
It was a highly moving reunion - all three of them were in tears.
"Every time these people came and murdered they managed to escape but Nissanka killed all of them," says Mrs Amirthalingam.
Hidden weapons
The assassins were invited to the house by another Tamil parliamentarian, Yogeswaran, and were to discuss improving ties with the most prominent Tamil political party of the day, the Tamil United Liberation Front (TULF), which was led by Mr Amirthalingam.
They were allowed in without any security - all three had hidden weapons.
As they sat down for tea they killed both Mr Amirthalingam and Yogeswaran.
"He was killed by the Tigers because he supported the Indo-Lanka agreement which he thought was the best solution at the time," Bahirathan Amirthalingam - who is in Sri Lanka for the first time since his father's funeral - tells me.
The accord with India signed in 1987 forced the Tigers and other militant groups to give up arms.
Long before the Tigers began their armed struggle, TULF leaders including Mr Amirthalingam were calling for an independent state for Tamils in the north and east called Tamil Eelam.
But they wanted it through negotiations, not guns.
His stance meant that he was seen as a "stooge" by the Tigers, who wanted to be the "sole representatives" of the Tamils.
This was although many Tamil militant leaders were inspired by Mr Amirthalingam's politics and were initially his followers.
But while the father was promoting peaceful, democratic solutions, both the sons, Kandeepan and Bahirathan, took up arms on behalf of Tamil militant groups not associated with the Tigers.
It was not a secret for the parents.
"My father did not oppose my taking up arms but he did not support targeting civilians," Dr Bahirathan tells me.
"He was a forceful moderate."
Tribute
But not everyone saw it that way. Mr Amirthalingam was accused by some Sinhala groups of grooming and supporting militant groups as a bargaining tool.
A presidential panel that investigated attacks on Tamils in 1977 by Sinhala mobs - widely seen as a key event which triggered the Tamil uprising - accused the TULF of stirring up inter-ethnic animosity by spearheading the campaign for Tamil Eelam.
But it seems that point of view has faded over the years.
When President Rajapaksa marked the anniversary of Mr Amirthalingam's death in 2006, he paid tribute to his "commitment to democracy and the larger unity of the Sri Lankan people".
Like her husband, Mrs Amirthalingam is also a controversial politician.
She was accused of making inflammatory and racist remarks while campaigning for him but was exonerated by an investigating judicial panel.
A quarter of a century later, the widow has strong words against the Tigers.
"If they were fighting for the Tamils, why did they kill my husband? Why did they kill so many moderate politicians?" she asks.
Though revisiting the painful memories is highly emotional, the family say they are happy to be back in Sri Lanka.
"I love my country. Sri Lanka is a beautiful island. I am happy to be here to recollect my memories," Mrs Amirthalingam says.
She insists that the passage of time has meant that she has no intention of seeking revenge.
"I think they lost an opportunity to solve the issue. The LTTE should have negotiated a political settlement with the government while they had power."
Mrs Amirthalingam says the president must now find a solution for Tamils so that they can live in Sri Lanka in dignity and as equal citizens.
"We can't go to any other country. We have our land, language and culture so this must be honoured by the president," she says through the tears.