Shots fired at Afghanistan Koran protest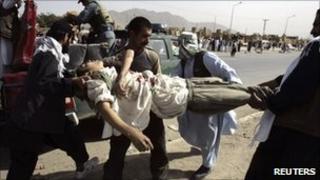 At least nine people have been injured in Afghanistan's capital, Kabul, during a protest over aborted plans to burn the Koran in the US.
The interior ministry is investigating reports that one person was killed.
Police said they fired warning shots to disperse hundreds of demonstrators after they blocked a road with burning tyres and began throwing stones.
The protest comes despite a US church cancelling plans to burn the Koran on the anniversary of the 9/11 attacks.
Police prevented the protesters from marching into central Kabul. Instead, they blocked a road and chanted: "Death to America".
The deputy head of Kabul's police force, Khalil Dastyar, said officers had fired into the air to stop the protesters from charging towards them.
He said Taliban members among the protesters opened fire at police.
Two people were killed in similar protests elsewhere in Afghanistan over the weekend.
Security pledge
Police officials have said Taliban members are inciting the protests to disrupt Saturday's parliamentary elections.
Nato commanders in Afghanistan have warned that they expect an increase in attacks ahead of the poll.
British Maj Gen Nick Carter, who commands international forces in southern Afghanistan, said it was "inevitable" there would be a "good deal" of violence.
Meanwhile, after talks in Islamabad, Afghan President Hamid Karzai and Pakistan's President Asif Ali Zardari pledged greater security co-operation.
Mr Karzai said the two had discussed Taliban bases in Pakistan's tribal areas.
"These are issues that we should discuss and these are issues that we should fight together," Mr Karzai said.
Throughout a new conference, the two leaders referred to each other as "brothers", the BBC's Roland Buerk in Islamabad says.
This is despite the fact that relations between the two countries have been marred by Afghanistan's accusations that Pakistan is not moving against militants, who use its territory as a safe haven to launch cross-border attacks, our correspondent says.
But he adds that President Karzai has been reaching out to Pakistan recently because he needs help to pursue his policy of reconciliation with Taliban leaders.
Pakistan wants to maintain its influence in Afghanistan, where it is worried about the growing role of India.