Bangladeshi villagers kill rare tiger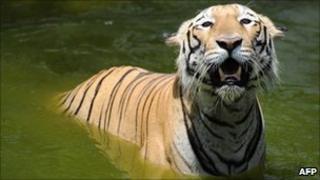 Villagers in southern Bangladesh have beaten to death a Royal Bengal Tiger, a critically endangered species, after it strayed near their homes.
It was the second tiger killed near the Sunderbans mangrove forests this year.
An estimated 440 tigers live in the forests, which stretch between Bangladesh and India.
As a rare species, tigers are protected by law in Bangladesh. However, the number of attacks involving the animals has sharply increased.
Forty-one incidents were reported in Bangladesh in the first six months of 2010, compared with 58 in the whole of 2009.
So far this year 26 people have been killed by tigers, officials say.
Villagers are sometimes attacked by tigers when they go into the Sunderbans forests to fish or collect honey.
Experts warn that such encounters will increase as humans and tigers compete for the same natural resources.