Sri Lanka releases impounded Economist edition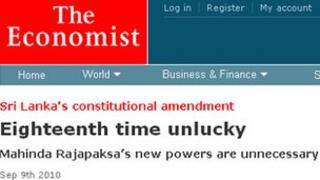 Sri Lankan officials have released impounded editions of The Economist magazine, its distributor says.
It carried an opinion piece critical of recent constitutional changes that granted the president sweeping powers.
The publication's distributor in Sri Lanka, Vijitha Yapa, told the BBC that officials had now released the edition, impounded last Friday.
The government has delayed distribution of the magazine on a number of occasions this year.
The latest edition has an opinion piece which said last week's constitutional changes showed President Mahinda Rajapaksa "put the consolidation of his family's power ahead of... national reconciliation".
It also said the Sri Lanka envisaged through the revised charter was "not a pretty place".
The BBC's Charles Haviland in Colombo says that sometimes it is The Economist's leader articles - which have a blunt and direct style - and sometimes its news reporting which appears to irk the Sri Lankan authorities.
Mr Yapa said the authorities had delayed The Economist several times this year, sometimes for up to two weeks, by which time it was not worth selling.
In the past, the head of the defence media centre has said that foreign publications are impounded if they are "harmful to national security".